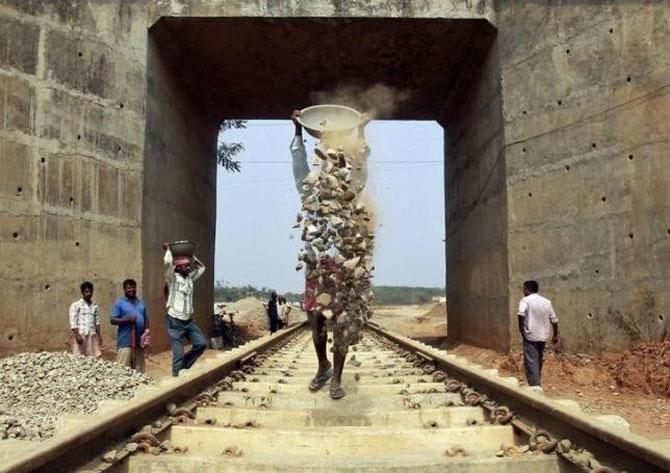 Also, higher allocations for rural schemes should push demand for consumer goods
An increased outlay for infrastructure at Rs 221,246 crore (Rs 2,212.46 billion), social economic programmes and rural push could have a beneficial effect on companies in the cement, steel, consumer goods and automobile sectors, where volume growth has dropped to single-digit over several quarters.
Consumer goods companies get 30-50 per cent of sales from rural India, where demand has been hit by consecutive years of deficit rain.
Core sector companies have seen volumes drop to single digit in the first nine months of FY16.
"The Union Budget is rightly focused on rural and infrastructure sectors.
"The planned investment in these will create jobs and give impetus to demand generation and growth," said Krish Iyer, president and chief executive officer of Walmart India.
Cement companies say the Budget will help their demand, with the higher allocation to roads, highways and affordable housing.
"With 85 per cent of road projects coming back on track and 50,000 km of state highways to be taken up for upgrade as national highways, we expect a boom in demand for cement.
"Besides, the focus on giving a boost to the rural economy through agriculture and related sectors will give rise to demand in the long run," said Amandeep, CEO at OCL and Dalmia Cement.
In the first nine months of FY16, cement despatches grew three per cent year-on-year; capacity utilisation was 66.5 per cent.
Steel companies, facing both lower prices and cheaper import, will also benefit. Infrastructure projects would require more steel. Similarly, the rural push could aid demand for tractors and consumer products.
"The government is continuing the rural focus, looking at enhancing allocation to Mahatma Gandhi National Rural Employment Guarantee Scheme (the rural job guarantee), beside focusing on skill development for the populace.
"These would help promote entrepreneurship, add jobs and put more disposable income with the rural consumer, ensuring continued rural demand for branded consumer goods," said Sunil Duggal, CEO at Dabur India.
Some say the possible demand boost shouldn't be overestimated.
"I would be cautious on the pace of the impact, which will be gradual over the year, depending on how these projects take off. With spare capacity, it would take time to get converted to investment demand.
"But, definitely, corporates can expect better times than in FY16 in these related industries, if all this works out," said D R Dogra, managing director of CARE Ratings.
Says Vivek Gambhir, the MD of Godrej Consumer Products: "Overall, this is a responsible, 'Rural First' budget that attempts to revive demand, while continuing on the path of fiscal consolidation. For the fast moving consumer goods sector, initiatives to support the revival of rural and urban consumption should help bring growth back on track.
Focused efforts on alleviating rural distress and uplifting the agrarian economy will help put more money in the hands of farmers."
There is bad news in store for garment manufacturers who expect their sales to drop for products costing Rs 1,000 and more due to higher excise duty.
INFRA CESS MAY HIT AUTO DEMAND
Proposed cess
1% on small petrol, LPG and CNG-powered cars
2.5% on small diesel cars
4% on all other vehicles
1% charge on purchase of luxury cars over Rs 10 lakh (Rs 1 million) each, in addition to infra cess
The impact
Rs 3,000-Rs 40,000 Amount by which prices are expected to go up for vehicles costing under Rs 10 lakh each
Rs 25 lakh (Rs 2.5 million) Amount by which each luxury car will be costlier
The government will change the Motor Vehicles Act to open up the road transport sector to the private sector, to boost bus operators
The image is used for representational purpose only. Photograph: Reuters