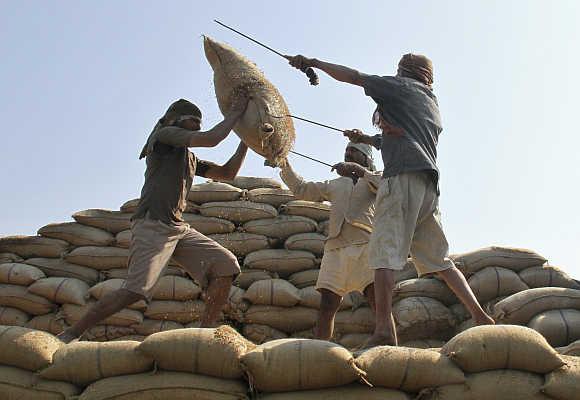 The National Democratic Alliance government, which had earlier raised doubts over the efficacy of Mahatma Gandhi National Rural Employment Guarantee Act, on Monday increased its allocation by over Rs 3,800 crore (Rs 38 billion) in 2016-17, with Finance Minister Arun Jaitley laying down the road map for rural development in the Union Budget.
"Rs 38,500 crore (Rs 385 billion) have been allocated for MGNREGA in 2016-17.
"If the total amount is spent, it will be highest Budget spend on MGNREGA," Jaitely said in his Budget speech in Lok Sabha.
In the last fiscal, the government had made a budgetary provision of Rs 34,699 crore (Rs 346.99 billion) for MGNREGA and promised to provide another Rs 5,000 crore (Rs 50 billion) based on the actual utilisation of funds by the states and Union Territories.
Reminding the government of its promise, Rural Development Minister Birender Singh had written in this regard to Jaitley December on 30 last year apprehending a "shortfall of Rs 5000 crore" in the scheme for this financial year if the promised additional Rs 5000 crore was not granted for the scheme.
People's Action for Employment Guarantee, a non-government organisation led by Aruna Roy and Nikhil Dey, had separately voiced disappointment, saying that while the government had promised another Rs 5,000 crore for the programme in last year's Budget, it had released only Rs 2,000 crore (Rs 20 billion).
The initial Budget allocation for 2014-15 was Rs 34,000 crore (Rs 340 billion).
In the revised Budget, it was only Rs 31,000 crore (Rs 310 billion) then.
The 10th anniversary celebrations of MGNREGA on February 2 had this year set off a political slugfest, with the National Democratic Alliance government saying it has 'transformed' United Progressive Alliance's flagship rural jobs scheme giving it record funds to boost economic growth.
Congress Vice President Rahul Gandhi had, however, mocked Prime Minister Narendra Modi saying his government's praise of MGNREGA is a 'shining example' of his 'political wisdom' as he only had called the United Progressive Alliance's job guarantee scheme a "living monument of Congress failure".