The Budget has allocated an increase in allocation for MGNREGS, LPG expansion, electrification & smart panchayats.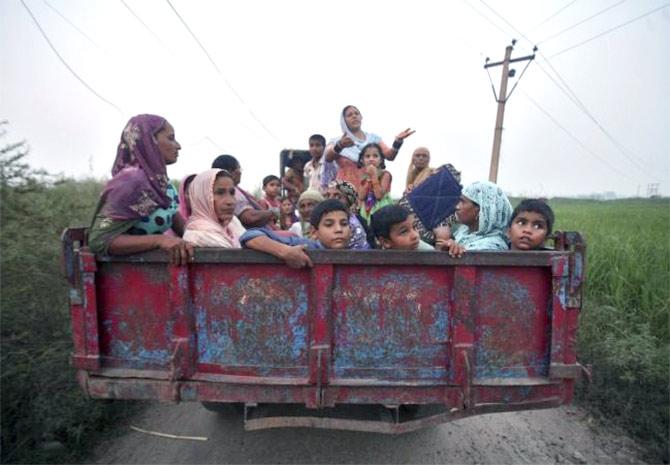 Image: Rural sector has been chosen as a top priority. Photograph: Reuters
Finance Minister Arun Jaitley used the word "rural" 25 times in his Budget speech on Monday and identified the sector as one of the "nine pillars" to transform India.
Last year, he had mentioned the word only 11 times, but this year, the rural sector has been chosen as a top priority, with emphasis on employment and infrastructure. However, those expecting a considerable boost to the rural employment guarantee scheme were disappointed.
"We wish to enhance expenditure in the farm and rural sector, the social sector, the infrastructure sector and provide for re-capitalisation of banks. This will address those sectors which need immediate attention," the finance minister said.
However, for the rural employment guarantee scheme, there was only a marginal hike of Rs 3,801 crore, about 11 per cent more than last year.
For rural areas a whole, the total allocation has been hiked from Rs 79,526 crore (Budget Estimate, or BE) in the last Budget (2015-16) to Rs 87,765 crore (Rs 877.65 billion) this year (2016-17). It means a growth of slightly more than 10 per cent over BE.
This year's Budget, however, has several schemes to help improve the health of the rural economy.
For electrification of all villages, Rs 8,500 crore (Rs 85 billion) has been allocated. There are more than 13,500 villages yet to get electricity - the government plans to cover all of them by May, 2018.
Another focus of the Budget is the new digital literacy mission, which will target 60 million households over the next three years.
The government estimates show that 120 million, of the total 160 million, rural households do not have computers. People from these households are likely to be slow in catching up on digital literacy.
The new scheme, details of which will be announced later, will address this, said the minister.
Computerisation of land records also found special mention in the Budget. An integrated land management system is proposed and Jaitley allocated Rs 150 crore for it.
There were a number of other specific schemes aimed at the rural sector.
A majority of the beneficiaries of rural LPG connections in the name of women in Below Poverty Line (BPL) households will be from rural areas.
With an allocation of Rs 2,000 crore 9rs 20 billion), the government will provide LPG connections to 15 million households this year. The scheme will run for two more years, covering 50 million BPL households.
That rising expenditure on costly health care is one of the major contributors to growing rural deprivation.
The government has announced a health protection plan offering coverage of Rs 1 lakh per family. Senior citizens will have an additional cover of Rs 30,000.
The government also plans to open 3,000 generic drugs stores this year.
Faced with criticism from some quarters in the wake of the suicide of a Dalit scholar in HyderabadUniversity, the government tried to present a pro-Dalit image by announcing a scheme to promote entrepreneurship among Scheduled Castes and Scheduled Tribes.
Jaitley said, "We have provided Rs 500 crore for this. The scheme will facilitate at least two projects per branch of banks, one for each category of entrepreneur. This will benefit at least 250,000 entrepreneurs."
Experts said the government's new rural focus is aimed at increasing its appeal in the villages ahead of crucial Assembly elections in West Bengal, Assam, Tamil Nadu and Uttar Pradesh in the coming months.

Incidentally, the industrial sector, too, was expecting a rural push in the Budget as some sectors have suffered from falling demand in rural areas.
BUDGET FOR BHARAT
10% increase in total allocation for rural sector
11% hike in Mahatma Gandhi National Rural Employment Guarantee Scheme (MGNREGS) allocation
60 mn households to be reached in 3 yrs by National Digital Literacy Mission
Integrated land information management system proposed
Rs 655 cr for Rashtriya Gram Swaraj Abhiyan to enhance capabilities of panchayats
Priority allocation from centrally sponsored schemes for villages free from open defecation
LPG connection to women members of BPL families; 15 mn such connections in next 3 yrs
Rs 1 lakh health cover of every poor family