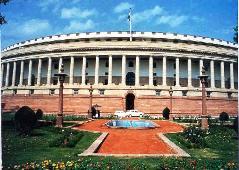 The finance ministry is likely to provide a marginal five per cent increase in allocation for centrally sponsored schemes other than the United Progressive Alliance's flagship programmes in the Budget for 2012-13 because of tight financial conditions.

However, flagship programmes such as the Mahatma Gandhi National Rural Employment Guarantee Act and the National Rural Health Mission are likely to get 20 per cent increase in allocation for next financial year-on-year.

Officials said care would be taken that  more money is allocated to those programmes that lead to asset creation and boost economic growth.

Tight fiscal conditions may prevent the government from announcing any major increase in Budget allocation to non-flagship programmes.

However, it will not be the same for the flagship programmes, officials said.

This financial year, allocation to MGNREGA was roughly flat at Rs 40,000 crore (Rs 400 billion) compared with last financial year, while NRHM got Rs 17,840 crore (Rs 178.4 billion), 13 per cent more over 15,672 crore (Rs 156.72 billion) last financial year.

The move is also politically expedient for the government as the 2012-2013 Union Budget is the penultimate for the United Progressive Alliance II.

Officials said a roadmap for implementing the B K Chaturvedi panel report on restructuring the centrally sponsored schemes is also expected to be part of the Budget speech, though allocations will be based on the old formula.

The Budget is likely to maintain roughly the same increase in its plan expenditure at 18 per cent for next financial year, as was done for 2011-12,
despite its tough financial conditions.
The allocations may include Rs 5,000 crore (Rs 50 billion) for the civil aviation ministry to help the beleaguered Air India and an equal amount to railways for infrastructure development.
The plan expenditure of the government was kept at Rs 4.41 lakh crore (4.41 trillion) for this financial year, which is little over 18 per cent more compared with Rs 3.73 lakh crore (Rs 3.73 billion) in 2010-11 in Budget Estimates.
For the next financial year, plan expenditure is likely to be Rs 5.21 lakh crore (5.21 billion), which will also be little over 18 per cent more compared to Rs 4.41 lakh crore in last financial year.
However, last financial year's Revised Estimates were higher by close to six per cent at 3.95 lakh crore (3.95 trillion) than BE.
As such, the rise in plan expenditure in BE of this financial year over RE of last financial year was less than 12 per cent.
But, the case may not be so in this financial year.
Plan expenditure is not likely to overshoot BE by any significant margin.
Till December, plan expenditure was just 2.77 lakh crore (Rs 2.77 trillion), roughly 63 per cent of BE.
As such, plan expenditure in BE for the next financial year is also likely to be 18 per cent over RE for this financial year.
Click Here For Rediff Realtime News On February 28 National Strike