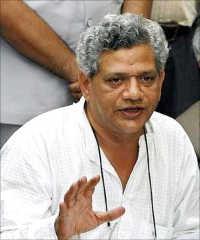 Sitaram Yechury, senior leader of CPM, has described the Budget 2012-13 as the budget for the rich.
He was speaking at a press conference in parliament complex in New Delhi.
"Concessions given in the budget are not meant for the poor but for the rich as they avail all the concessions. In the name of providing relief to Aam Adami the UPA government has prepared budget for the khaas Adami," Yechury said as he took a dig at the Finance Minister Pranab Mukherjee.
He pointed out that if the government earns Rs 4,500 crore from direct taxes, the finance minister hopes to get Rs 45,940 crores from indirect taxes - which are in fact serve as gift to the rich.
"Indirect taxation will be burden on the poor. The government should have collected Rs 5,29,432 crore while the fiscal deficit is Rs 5,21,480. If the government wanted they
could have collected and whiped the deficit in one go but they did not do it," Yechury said.
He lamented that the government was now trying to cut down subsidies meant for poor.
"According to the statistics the subsidies 2.16 lakh crore and 1.90 crore.Greater subsidies for the rich and lesser for the poor. It is a retrogate for the people of India. I wonder whether the prime minister Dr Manmohan Singh would bite the bullet or buy the bullet. Dr Singh has praised the retrogate budget," he said.
He criticised the UPA government for cutting down the interest rate on employee's provident fund and bring it down to 8.25 per cent for the current year from 9.5 per cent announced earlier. Five crore workers would be hit by the decision.
Union Budget 2012-13: Complete coverage