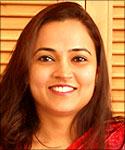 The much anticipated Budget announcements are over. The finance minister changed the slabs cutting the rate to 10 per cent for income up to Rs 500,000. The tax concession the FM said will give more money in the hands of the people.
One of the sectors that was impacted by the FM's proposals was the travel sector. So how will it hit your travel plans?
In an hour-long chat on rediff.com, Neelu Singh, chief operations officer, Ezeego1.com, explains how the travel industry will be affected.
neelu says, Hi All, Apologies for the delay

---
Jatin asked, Hi, i keep traveling & find booking on Cleartrip much simpler... why is ezeego1 not so clean as cleartrip? It really makes it easier and dont mind paying a few ruppes more for the ease
neelu answers,  at 2010-02-26 18:23:36Dear Jatin, thank you for taking out the time to tell us this. We take user feedback seriously and analyse it from time to time to better the experience on Ezeego1.com. Let us know if anything in particular you want to highlight
---
sasa asked, Hi Neelu Could tell me how will the New budget impact on the airline sector
neelu answers, The budget is positive and we feel it will be well received by the consumers. The business is expected to be good
---
rajkumar asked, hi neelu, waht do you feel about the % age of price hike in the aviation sector.
neelu answers, The aviation sector requires support as in the past the airlines have been reducing fares for consumer benefit. some correction was needed to meet the expenses incurred by the airlines hence it will help the airlines in a big way. However since the demand is there , the consumer will continue travelling
---
prince asked, budget is good for airlines,budget is good for industry,budget is good for stock market,but its not good for common man?what do u think about this?
neelu answers, I agree however we need to support the government and the industry to improve infrastructure to meet internationl standards and to compete with other nations.
---
azim asked,  To give a boost to the tourism sector, the budget has extended the benefit of investment linked deduction to new hotels of two-star .. what is ur take on it
neelu answers, Due to this benefit of investment linked deduction, ll capital expenditure for a new hotel other than land cost will be tx deductible. this will be a huge benefit to the hotel industry especially the budget category where we need to improve as a nation
---
Neela asked, Whats the scene for mergers & acquisitions happening in the low-budget civil aviation sector in India?
neelu answers, M&A will continue. It will really be survival of the fittest
---
Rajdeep asked, Will the airline price rise after the budget?if so, by what percentage(roughly)?
neelu answers, Increase has been mentioned. Percentage has not been notified
---
Ajays asked, High real estate cost and a depressed economy forced many hotel companies to put new projects on hold. "Many more hotels in different categories will come up across India. While this will generate more employment it will also help rationalise room rates which is currently under pressure," Vivek Nair, VC, Leela Hotels. The demand supply mismatch seen in some cities will also be evened out. Quote on Eco times.. Whats your view
neelu answers, I agree with Vivek
---
Xascs asked, Hi Neelu...How do you think this budget is a people friendly budget whereas in one hand Govt. has increased the Salary Tax Bracket and in other hand there is nothing to curb inflation. Moreover due to Petrol and Diesel prise hike more inflation will come. How do you rate it for a normal Middle class person?
neelu answers, PM has announced that the budget will accelerate the economic growth and return to a growth rate of 9%. This itself is a positive indication for all including middle class
---
azim asked, Hi Neelu.. Why dont you make your site a bit simpler its quite complicated to book tickets
neelu answers, Thank you for your feedback. Your inputs will be valuable. I would request if you could mail us some inputs from your perspective for consideration.
---
RAJ.N8247 asked, MY OPENION ON THIS BUDGET IS THIS SQUEEZING MONEY FROM POORS AND INJECTING ON RICH CLASS AND USING THEM FOR REVENUE TO THE GOVERNMENT
neelu answers, Growth rate projected is 9% which is a positive for any class.
---
Debub asked, My question is, are low-cost airlines likely to hike rates?
neelu answers, The airlines Industry per say will be increasing fares
---
sonu asked, neelu how much the air travel hike
neelu answers, No percentage has been announced yet
---
Abhishek asked, Hi, is there any job in ezeego1 for freshers? I am going to appear for my Tybcom exams this year.
neelu answers, please mail your resume on jobs@ezeego1.com
---
dddd asked, from when the rise of air tickets be commencing
neelu answers, not been announced yet
---
Prashant asked, Hi Neelu, will air travel become costlier? How does the Budget affect the travel sector?
neelu answers, Yes air travel will become costlier. The budget seems positive for the travel sector as infrastructure for the industry will improve
---
anshul_kaushik asked, How will the travel budgets of families (1-2 tours a year for 2-4 people) be affected by this budget - By air and by road?
neelu answers, The impact is yet to be seen as the percentage hike is yet to be announced. However with increased budget catgeory hotel opportunities, the cost of travel within india will improve
---
budget_query asked, who will get benefit airline price hike? Govt./Airline companies
neelu answers, both
---
rajiv55 asked, Makemytrip.com has not refunded my cancellation of international airticket. Can you help me telling to whom to register complaint? email .
neelu answers, you may send an email to them
---
Anilvet asked, Dont you think hike in the price oil is ultimately going to increase the price of air tickets? Is there any increase of price of service in booking online tickets?
neelu answers, airfare will increase however no service price differential for booking online.
---
Sohal asked, Neelu...How do you compare yourself with ....makemytrip or yatra in such competitive market....As myself is a travel agency owner...
neelu answers, The market is huge and has space for all
---
yyyog asked, hi will the car hire charges will increase and how much % it will incraese
neelu answers, Yes it will. Impact is yet to be defined
---
yyyog asked, Hi Neelu Could tell me how will the New budget impact on the airline sector
neelu answers, Airfare will increase. Infrastructure will improve. It is positive for the industry
---
funky asked, hi,can u work on road travel rates based on distance travelled to diff places on ur website.i feel road travel is least left out but its equally in demand.instead of approaching travel agent i feel a reputed website can be approached if transparent fares r displayed.. like 4 train & air
neelu answers, We are working on this product and will be launching this soon. Please watch our site for this
---
siddhi asked, hi will the car hire charges will increase and how much % it will incraese
neelu answers, impact yet to be defined
---
Reshma asked, Hi, The biggest hindranse for our country's development is corruption. No one seems to have the mindset to tackle this demon. Is there anything in the budget which can at least try to scare this demon if not attack it?
neelu answers, I am not sure if government can do anything on this. common man has to take a stand to fight this
---