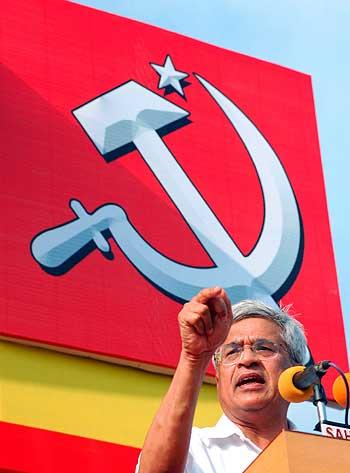 Prakash Karat, general secretary of Communist party of India-Marxist, termed the Budget 'flawed'.
While speaking to rediff.com, he said, "The increase in indirect taxes will add to inflation. The government is neither going to achieve growth nor it will be able to contain inflation with this budget."
He said the Budget is anti-poor, "because of the increase in customs and excise duty which will aggravate inflation ending in a rise in prices. This will burden the poor. One fails to understand the logic behind this Budget. At a time when food prices are so high in the country, such a move will only add to the woes of the people. Food inflation will soar with hike in petrol and diesel prices."
Karat also dismissed the government's allocation of around Rs 5,000 crore (Rs 50 billion) for education projects. He said it is too meager in light of the importance of the sector. He also said in view of the cut in subsidy on fertilizers, the allocation of Rs 3,000 crore (Rs 30 billion) for it is not enough for the farmers.
When asked if the opposition 'walkout' in Parliament against the announcement of petro-price hike in the Budget was a planned strategy, Karat firmly denied it. He said, "That is possible only if government had told us in advance! How can we know what is in the Budget?"
The Left parties are normally shy of joining hands with the Bharatiya Janta Party on most issues inside or outside Parliament. In opposing the Indo-US nuclear deal Karat's CPI-M and BJP were on the same side inside Parliament.
On Friday, once again on the issue of the hike in petrol and diesel prices, the BJP and the Left parties got together in opposing the government.
Karat said, "The walkout by my party members was necessary because this Budget is pampering the rich people and burdening the poor. The government is unable to recognise the fact that the Budget would enhance inequality within India. The Budget is against the declared aim of the government's inclusive growth claims."