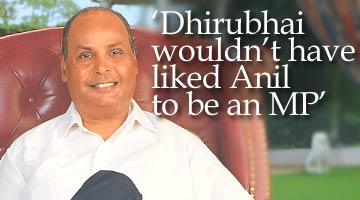 Dhirubhai Hirachand Ambani, the legendary founder of Reliance Industries Ltd, had a huge circle of friends belonging to different professions and businesses.
For a man who didn't go to college, Dhirubhai was obsessed with information of all types, and would enthusiastically interact with his trusted friends.
Everyday he had his 'gossip sessions' with politicians, friends and academicians for five or six hours. He shared his evenings at home over a Campari to the accompaniment of a wide variety of fried Gujarati snacks.
For close to four decades, Krishnakant Vakharia, an Ahmedabad-based advocate and a senior Congress leader, was one of Dhirubhai's friends who discussed with him on a regular basis subjects as varied as Lalu Prasad Yadav's politics to Bill Clinton's economic vision.
In an exclusive interview with Senior Editor Sheela Bhatt, Vakharia, who has completed 50 years at the Gujarat high court bar, recalls the legend's views on politics and his intense desire for peace between India and Pakistan.
Vakharia insists that Dhirubhai would have not approved of his son Anil becoming a member of Parliament with the help of the Samajwadi Party.
However, Vakharia adds, Dhirubhai, at one point in time, wanted Congress support to enter the Rajya Sabha, but could not succeed!
The early years
"I met Dhirubhai in Junagadh, Saurashtra, in 1946-1947. All of us were interested in the ideals of the freedom movement. We were active in demanding an independent India. Dhirubhai too participated in the freedom movement. He was very keen to become a member of the political movement. He liked agitations and street struggles aimed at expressing Indians' desire for freedom. He put up hoardings and etched graffiti."
"Around 1948, he joined the Praja Socialist Party along with me. The Socialist thinkers in the Congress broke away from the Congress after Independence and formed the PSP."
"Jaswant Mehta and Sanat Mehta, veteran socialist leaders of Gujarat, attracted us. Narottam Doshi was studying with us. He was Dhirubhai's mentor in politics. (Doshi was in charge of Dhirubhai's early businesses. He is now retired and lives in Mumbai)."
Knowledge hungry
"Doshi was a voracious reader. He had read Karl Marx, Harold Laski, Tolstoy and many books on global literature and economics. It attracted Dhirubhai because he loved this kind of knowledge."
"He would listen to the views of Tolstoy, Marx and Laski with huge interest. He always wanted to remain updated. He liked to get more and more knowledge. In Junagadh, he resided in his caste-managed Modh Baniya community boarding without paying any fee."
"He would most times wear lengha-pyjama. He was a vegetarian and loved only fried food and fried Gujarati snacks like gandhiyas and bhajiyas."
"He was not at all religious. Till he died he stayed away from rituals."
"His elder brother Ramnikbhai worked with A Bress & Company in Aden. Tarachand Shah, an official of this company, who too was from Saurashtra, visited India every year and he used to stay here for three months."
"He offered employment to young boys who were ready to go abroad. He would interview them here and give them an 'employment order' right here in Rajkot."
"Ramnikbhai recommended Dhirubhai to Shah and he took Dhirubhai to Aden. Within four of five months of joining PSP, he had to leave for Aden. Later, when he came back we met in Ahmedabad. I took possession of his land on his behalf to build Reliance's first textile factory."
"He offered me a job but I told him I would like to be your friend and not a paid employee of your company."
Contacts everywhere
"Dhirubhai had friends in all political parties. Not just Congress or the Jan Sangh, but he maintained contacts even in small, insignificant political parties. He would also finance these parties. Ultimately, for him, politics was a means of expanding his business and achieving his ambitions."
"He hated politicians. He told me all the time that Indian politicians require training. 'They are the people who have to run the nation and thus they need to understand what the real problems are'."
"We often had heated arguments on politics. He said by talking to journalists, academicians, bureaucrats and politicians for 5 to 6 hours every day he had acquired 'training'. He said that some training is needed whereby politicians could be introduced to problems of countries and various approach for its solutions. He was obsessed about getting proper training."
"I was with the Congress by the time (then prime minister )Indira Gandhi launched the slogan 'Garibi Hatao.' He would tell me: 'Aa lokone murakh banava no dhandho che. (This slogan is to fool the people.)'"
A critic, and a friend
"He was a critic of Mrs Gandhi, but became her friend after Morarji Desai took over power as the nation's prime minister. He considered only her as being worthy of leading the nation. He never had a very good opinion of the National Democratic Alliance government, led by Atal Bihari Vajpayee."
"He respected Mrs Gandhi but he would tell me that the Congress does not know how to manage the economy. Congress leaders have no new ideas. He said you should allow free trade and commerce, allow people to grow. His economic philosophy was to liberalise trade. He came closer to Indira Gandhi when she was voted back to power."
"Mathuradas Mehta, a Gujarati from Kathiawad, was active in Congress politics. He was part of the old team (of the Praja Socialist Party) of Junagadh. He arranged a dinner in Gujarat Bhavan in Delhi which was attended by Indira Gandhi. Dhirubhai attended the dinner and stole the show. Mrs Gandhi lived for just four more years, but during those four years he had easy access to her."
Hindutva: Hardline, softline
"His take on Hindutva changed in his later years. Between 1967 and 1975 he was completely pro-Hindu. He wanted population control for Muslims."
"He regretted that India didn't accept C Rajagopalachari's plan of population exchange when the nation was divided. Rajaji had proposed that let Independence come a year later in 1948, but we should exchange the population. All Hindus of Pakistan should migrate into India and all the Muslims should migrate to proposed Pakistan."
"His plan was rejected by the Congress. Under the Rajaji Plan it was proposed that the Hindus and Muslims who decide to stay back will be considered second rate citizens. This was an absurd proposal."
"But in the last four or five years Dhirubhai changed his views completely. He wanted good relations with Pakistan."
"I think he wanted Pakistan's market for Reliance. His political understanding was always to his company's advantage. I will not judge his political views in any other respect."
A Rajya Sabha seat?
"Around 1971-1972 he wanted to go to Parliament. He never wanted to contest a Lok Sabha election. He wanted a Rajya Sabha nomination from the Congress."
"I tried through Ratubhai Adani and Kantilal Ghia Congress leaders in Gujarat. In 1971, only active politicians of the party were considered for the Rajya Sabha nomination. And I could not secure a nomination for him."
"He never entered active politics because his ambition was to become the richest man and number one industrialist in India. Since the late sixties -- when he started the factory in Ahmedabad -- he would tell us that one day he would to be the biggest industrialist of India."
"He argued that only dealings in the petro-energy can make a person rich. Ever since he was working at a gas station in Aden he desired to have a refinery of his own."
"When he became India's biggest industrialist, he could have gone to the Rajya Sabha easily, but then he said 'Indian politics is full of uncertainties. One has to maintain good relations with everybody. Unless you do that you can't reach the heights you desire'."
The power of money
"Dhirubhai was very shrewd. He wanted every politician to be his friend. Only (Janata Dal leader and former finance minister) Madhu Dandavate never bowed before Dhirubhai. He was the only one who never accepted his money."
"He funded everybody. Whoever came to see him never went without money."
"He argued: 'Everyone has a price. What is your price? I can pay'."
"He was giving away crores of rupees every year to politicians. The Bharatiya Janata Party and the Congress's regional offices were maintained with his money. He told me once: 'Sala, maraj paisa haam haama lade che!' (Heck, my own funds are fighting each other!'"
"Dhirubhai would have never approved of Anil Ambani joining politics in this fashion. When Anil stood for the Rajya Sabha his nomination was opposed by two major political parties. Dhirubhai would certainly not have liked that. He passionately maintained ties with all parties."
"He maintained a balance and didn't even recommend anybody openly for tickets to contest elections."
"In 1985, when he became rich and famous, Congress leader Ratubhai Adani wanted him to contest from Junagadh on a Congress ticket. Satyam Patel, leader of the Congress, was asked to meet him. Dhirubhai refused. He told Patel, 'When all the MPs are coming to me why should I go to Parliament?'"
He preferred the Congress
"He was not at all a Congressman or a Congress supporter, but amongst all the parties he preferred Congress rule because he thought that the Congress was capable of providing stability to the nation. 'Only political stability will bring economic development,' he would say."
"He died on July 6, 2002. Our last meeting was at his home in December of 2001. Water management of Saurashtra, peace with Pakistan and international politics, these were the three subjects on his mind during his last days."
"He told me at the last meeting I had with him: 'I will make Dhiru rivers flow all over Saurashtra.' He was obsessed with desalination plants. He wanted to convert sea water into drinking water to help the residents of his native place."
The Kashmir issue
"He argued that India should let Pakistan have some concession, but let us have peace. He was in favour of a solution to the Kashmir problem. In Gujarati he would say: 'Ene joitu hoi te aapi devanu. (Let Pakistan have what it wants)'."
"He was even in favour of the division of Kashmir. In his last few years he keenly followed American politics. He had many contacts amongst Senators and Congressmen. He had close relations with former US President Bill Clinton."
"In scale, his outlook was international. He acquired broad vision in his last decade. In his last years he abandoned the narrow vision of India's partition and he was genuinely striving for peace with Pakistan and communal harmony in India."
Design: Rahil Shaikh