Calls to and from BSNL network will be disrupted from April 20 with nearly three lakh BSNL employees planning to go on an indefinite strike against the management's decision to divest 30 per cent stake.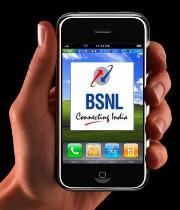 "We have not heard as yet from the management. We are planning to go on an indefinite strike from April 20," Joint Forum of Executives and Non-Executives' Unions and Associations convener VAN Namboodiri said.
"About three lakh employees will be participating in the strike. Services of BSNL will be severely affected due to the strike," he added. BSNL, which has over three lakh employees, saw profits plummet to Rs 1.78 billion (Rs 178 crore) in 2009-2010 (up to December 2009) from over Rs 5.75 billion (Rs 575 crore) in 2008-09 as the PSU is rapidly losing market share to new entrants. The PSU has 91 million users.
The strike call has been given by a joint forum of unions that has both executives and non-executives as members. The employees unions are protesting against the recommendations of the Pitroda Committee report that favoured 30 per cent divestment in the PSU and voluntary retirement to nearly one lakh staff.
The Sam Pitroda panel was set up by Prime Minister Manmohan Singh to suggest ways to improve BSNL's financial health. The panel had banker Deepak Parekh and Telecom Secretary P J Thomas as members. Besides a scrapping of the divestment plan, the unions are also demanding absorption of the 1,500 Indian Telecom Services officers in the company who have been continuing on deputation for the last 10 years.