Brijmohan Lall Munjal was a perfectionist, who empathised with people who worked for him.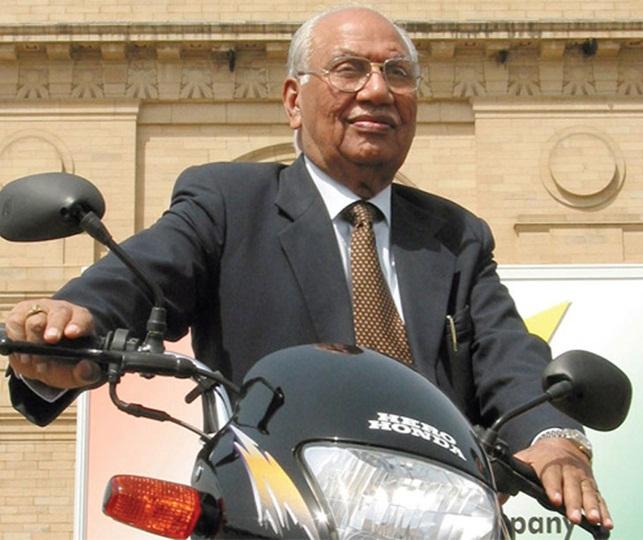 'Hero Forever' posters with Brij Mohan Lall Munjal could be seen on lamp posts leading to the Indira Gandhi Indoor stadium. Audis and BMWs had started rolling into the stadium's parking space well before the scheduled 3.30 pm start for the prayer ceremony for the Hero group patriarch who died on Sunday.
Scores of people in white Hero uniforms, formals, suits and other attire walked briskly to bridge the considerable distance between the gates and the venue.

Golf carts shuttled the elderly, who were in considerable numbers.

Elaborate arrangements and attention to detail ensured that the huge numbers of employees, suppliers, distributors, friends and relatives could pay their floral tributes to their Hero before moving to take their seats in the auditorium.
Large LCD panels by the side of Munjal's pictures played visuals that showed the social and spiritual side of the departed. Munjal's moments with spiritual leaders such as Mother Teresa, Baba Ramdev and Acharya Akhileshwar Bharadwaj, the family's spiritual guru, played on loop on the panels.
Acharya Bharadwaj, who began the proceedings with prayers, recalled the six qualities that led him to create a business that became world No 1: udyama (enterprise), sahasam (courage), dhairya (patience), bhakti (devotion), shakti (energy) and parakram (bravery).

He also said Munjal, who turned 92 in July, had the gift of leading a long and complete life.
Several people from different walks of life who were touched by this long life that began in Kamalia, now in Pakistan, and passed through Ludhiana before moving to Delhi after the passing away of his son Raman Kant Munjal in 1991, filled every seat in the stadium.
Among them were Priyanka and Robert Vadra, former ministers Anand Sharma and Rajeev Shukla of the Congress, and Nationalist Congress Party's Praful Patel.
Prominent businessmen who paid their tribute on Wednesday included Bajaj Auto chairman Rahul Bajaj, former Maruti chief Jagdish Khattar, YES Bank's Rana Kapoor, Videocon's Raj Kumar Dhoot, Jindal Steel and Power's Naveen Jindal and Hinduja brothers Ashok and Gopichand.
Some old family friends had also come. Vijender Gupta of Delton Cables, who knew Brijmohan Lal - fondly known as BML since the 1960s - as their fathers were friends, said: "They don't make people like him anymore."
He would have liked to attend his grand daughter's wedding, but his failing health did not help, Gupta added.
Sanjay Kumar, who works for a Gurgaon-based distributor of the Hero group, saw the bicycle giant's greatness in the thousands of jobs he created.
Munjal's three surviving sons paid emotional farewell to their father, recalling personal moments from his rich life.
Suman Kant, who founded Rockman Cycles, said when his father started the business he did not think it would one day become a world leader, nor was he worried about the wealth he would make.
"He was a karmayogi," said Kant. His father's inspirations were his mother, whom he often remembered fondly; his education in a gurukul, where he was sent at an early age of seven; Ernst Mann, a German whom he met in 1959 and who inspired him to venture into the cycles business; and his wife Santosh Munjal, who posed tremendous faith in him and managed the large family.
Pawan, who heads Hero Honda, said he was overwhelmed by the responses and messages that have been pouring in over the past couple of days.
"We have seen him grow taller and taller. As he grew taller, he became more humble. He used to say he is like a tree bearing fruits. As it bears more fruits, it bows down more."
Rahul Munjal, son of BML's eldest son late Raman Munjal, recalled an instance of humility in how his grandfather made sure he bought his cars from the same company in the same colour so that he did not give an impression that he was changing cars too often.
"So we had one Black Mercedes replacing another or a dark blue replacing another dark blue." Rahul, who runs Easy Bill, said he was a perfectionist, who empathised with people who worked for him. Brijmohan had his dinner early so that people working for him are not detained late. "His plate was as clean after the meal as before it."
Sunil, the youngest son, added that practice came from the values of not wasting things and his desire to "tread lightly on the planet.
He also recalled how his father set up an effluent treatment plant 40 years ago, when not many had thought or talked about it.
He also took pride in the way his father and uncles managed the group restructuring a few years ago "without any public spat". Sunil said the family initially thought of keeping it a closed event. But then decided the man's full life deserved a celebration.
Leading lights of Indian music presented a special tribute titled Tiranga.
Inspired by the four elements of the National flag, Pandit Jasraj, flautist Hari Prasad Chaurasia, Grammy winner Vishwa Mohan Bhat and ghatam exponent Vikku Vinayakram rendered a special Shradanjali interspersed by poems on various aspects of life recited by Pawan.
Jasraj's daughter Durga, the emcee for the event, recalled the special quality of the grand old man who made everyone he met feel a hero of himself.
The group plans to remember its founder by celebrating his memory as Prerna Day every year.
A message from M Damodaran, a board member of the Hero MotoCorp, recalled by Pawan summed up the feeling of hundreds who gathered: "Here was a man; Whence comes such another."