Infosys had guided for a revenue growth in the range of 11.5-13.5%, which has now been lowered to 10-12%.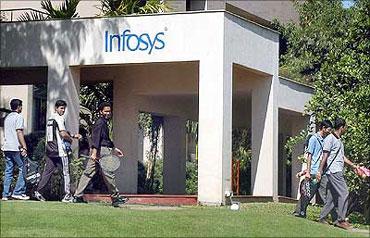 Both Tata Consultancy Services (TCS) and Infosys say that the implication of Brexit is a wait-and-watch situation.

But, there is no denying that Brexit is one of the strongest headwinds for FY17 for these two firms, and there will be implications.

In the case of Infosys, Brexit uncertainties and low visibility were two of the reasons for it to reduce its revenue growth targets for FY17.
Vishal Sikka, chief executive officer (CEO), Infosys, said, "As we look ahead to the future clearly, Brexit is something that many banks are worried about and so forth. In the near term, we don't know how this will play out and so forth. So, given the visibility, we lowered our forecast," he told media.
Infosys had forecast a revenue growth in the range of 11.5-13.5 per cent, which has now been lowered to 10-12 per cent.
For both the firms, Europe (the UK and Continental Europe) make up more than 20 per cent of their revenues.

For TCS, Europe is 26.3 per cent of its revenue and for Infosys, 23 per cent, and for both firms, banking, financial services, and insurance (BFSI) is the largest revenue contributor and European banks are big customers of Indian IT (information technology) firms.
N Chandrasekaran, CEO and managing director, TCS, agreed there will be implications of Brexit, but at present it will be a wait-and-watch scenario. "It will have implications, but what will those implications be for the financial institutions (FIs) needs to be seen. These implications will have challenges and opportunities," he said.
Both the companies also stated that though the situation is uncertain at present, clients have not signalled any crisis situation. "I have been talking to clients. So far, I have not come across any negative comment. Nothing on rate cuts or budgets so far. Our strategy is to stay close and stay relevant to the customer," said Chandrasekaran.
Sikka, too, had similar comments. He said: "So far, Brexit has had no impact on us. But as we look ahead, this is clearly something that many banks are worried about. It creates this opportunity for us in the medium and long term."
One of the immediate impact of Brexit has been on the currency front. Post Brexit the GBP has depreciated by almost 10 per cent to the US dollar.
Analysts too, believe that there could be an opportunity in this situation.
"Regulatory-driven IT spending has been a key growth driver for India-origin providers (IOPs) in the BFSI vertical. Will the UK-EU divorce usher in a new order as far as the regulatory landscape is concerned? Arrangements like "Passporting" (wherein a BFSI firm can operate across the EU as long as it has a base in the UK), legal frameworks and many more could be reversed / changed, going forward. This could potentially create areas of growth opportunities for the sector. Given the timelines though, we see that as a medium-to-long term opportunity," said a report from Motial Oswal.
20%
of revenues in tcs and Infosys come from the UK and Continental Europe
10%
The pound has fallen to the dollar, after UK's decision to leave EU following the referendum