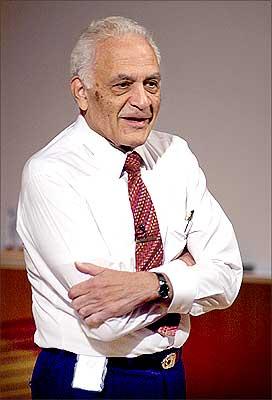 Amar Bose last month joined the ranks of Alexander Graham Bell and Thomas Alva Edison, after the National Inventors Hall of Fame announced his name as one of the seven living 2008 inductees.
Dr Bose, a former MIT professor of electrical engineering who has revolutionized the quality and concept of stereo loudspeakers, is only the second Indian American after Dr Rangaswamy Srinivasan, whose invention of ultraviolet surgical and dental procedures resulted in what is known today as LASIK surgery, to be inducted in the Hall of Fame.
The Hall of Fame Foundation has honoured 371 inventors till 2007, including many posthumously, in recognition of their technological advances and contributions that make human, social and economic progress possible.
Besides Bell and Edison, past inductees into the Hall of Fame that was founded in 1973 by the US Patent and Trademark Office and the National Council of Intellectual Property Law Associations, include aviation pioneers Wilbur and Orville Wright, and genetic fingerprinting pioneer Alec Jeffreys.
It noted Dr Bose's pioneering work in acoustics technology at the company that bears his name. Bose is the founder, chairman and technical director of the internationally-recognised audio company Bose Corporation established in 1964.
Dr Bose, son of a political dissident who had immigrated from Kolkata, was raised just outside Philadelphia and began his career at the age of 13 repairing radios in his basement during the Second World War.
According to MIT's biography of Dr Bose, who is both an alumnus and former professor of the institution, his passion for technology continued at MIT, where he earned Bachelor's, Master's and Doctoral degrees in Electrical Engineering. He embarked after his BS on a personal crusade to invent a stereo loudspeaker that would reproduce, in a domestic setting, the vivid sound that a member of the audience hears at a great concert hall.
In 1956, he was asked to join the faculty at MIT, where he taught until 2001. His research at MIT led to the development of new, patented technologies.
In time he succeeded in achieving this goal inventing the direct/reflecting speaker system in 1968, one of the first stereo loudspeakers to utilize the space around them instead of reproducing sound as if in a vacuum. He has also worldwide fame with customized sound systems for automobiles and active noise reducing headphones.
The Hall of Fame noted that under his leadership 100 per cent of profits of the company are reinvested back into the company, enabling advancements in non-audio areas.
 In 2004, after 25 years of research, he introduced a revolutionary suspension system that combines superior comfort and control in the same vehicle.
Dr Bose has done extensive work for the armed forces and NASA. He was named Inventor of the Year in 1987 by the Intellectual Property Owners Association and holds numerous patents in the fields of acoustics, electronics, nonlinear systems, and communication theory.
'This year's group of inventors who we're recognizing have discovered innovations that we truly take for granted as we live our daily lives,' said Fred Allen, vice president of selection of the National Inventors Hall of Fame.
'Whether it's through our daily actions at home or through global systems, these inventors have significantly influenced the quality of how we live,' he said.
Dr Bose, along with 16, including nine who would be recognized posthumously, will be inducted at a two-day annual induction ceremony beginning May 2 in Akron, Ohio.