Will the warning shots fired by giant advertisers Unilever and P&G break the dizzying speed of growth of digital? Viveat Susan Pinto finds out.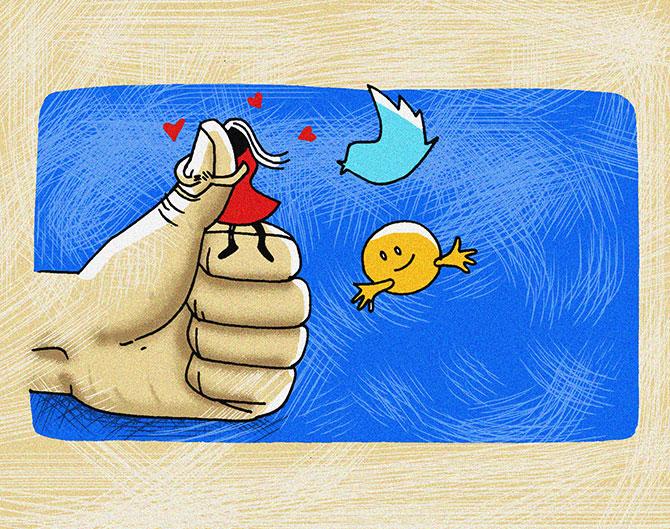 Illustration: Dominic Xavier/Rediff.com
Two of the world's top advertisers, Unilever and Procter & Gamble (P&G), have recently said that they will rein in digital advertising expenditure across markets in a bid to cut costs and improve return on investment.
Cincinnati-based P&G has already taken the lead in this regard, slashing digital ad spends in 2017 by $200 million and saying that more such cuts would be initiated this year.
The move impacts India as well, where digital advertising has been a key communication tool used by its brands such as Ariel, Gillette and Whisper. Unilever, whose Indian subsidiary Hindustan Unilever (HUL) is the largest domestic advertiser, has also in the last few years pushed its digital presence aggressively across most of its key brands.
The paradox is that while the big two are threatening a pull back, the nearly ₹100 billion digital ad market in India is booming.
The domestic digital ad market, according to most advertising expenditure reports, is growing at around 25-30 per cent per annum and is expected to maintain this pace of growth for the next few years.
In pursuit of the consumer
In 2017, digital media contributed to 17 per cent of the total ad spends in India, up from 15 per cent in 2016 and by 2020, approximately 22 per cent of all advertising is expected to be on digital, according to a report by Ficci and EY (Re-imagining India's media and entertainment sector).
According to a report by Zenith, part of Publicis Media, India is fourth among the top ad contributors in the world (2017-20), led by digital.
Rajiv Dingra, founder and chief executive officer, WATConsult, a digital agency, which is part of the Dentsu Aegis Network, says that at the heart of this online boom lies the clamour for eyeballs. Online traffic, he says, has zoomed in the last two years following a fall in data tariffs, coinciding with the launch of telecom services such as Reliance Jio.
In this context, the cautionary note from the big consumer goods companies appears ill-timed, say sector experts.
Yet, the warning bells cannot be ignored, given that the need to be transparent and weed out toxic content online is also important if advertising on the medium has to continue to flourish.
The spurt in digital audiences (and therefore viewership), Dingra says, has pushed advertisers to invest behind the medium aggressively.
"I see the growth rate of digital advertising sustaining for the next three years at least, since internet penetration via mobile phones will only grow. For many people, accessing internet via mobile phones is convenient and this has been one of the biggest factors for the growth in the internet user base in India over the last few years," Dingra says.
A recent joint report by the Internet and Mobile Association of India and market research agency IMRB Kantar bears this trend out.
India, the report, says has 481 million Internet users currently, which is expected to touch 500 million by June this year. Industry estimates are that India could touch 650 million internet users in the next two years, making it virtually impossible for advertisers to ignore digital advertising.
While large brands continue to devote attention to both traditional as well as digital media, small and mid-sized brands are increasingly switching to a digital-only advertising policy, sector experts said.
This point is endorsed by KV Sridhar, founder and chief creative officer, Hyper Collective, who says that a number of clients he is working with are looking for a digital-first or digital-only strategy.
"For many brands, their target audience is located online and it makes ample sense for them to speak to their consumers via the digital medium," he says.
Categories that are aggressive online include beauty and cosmetics, male grooming, skin care, hair care and infant care.
Video, social push ahead
One of the key reasons for categories such as beauty, cosmetics and male grooming to have a high online presence is because of the boost that formats such as video and social media give them, say experts.
"Indians love watching videos, possibly more than they would like reading about a particular subject. This, in turn, attracts brands, who want to use the video format to amplify their message," says Rahul Marwaha, executive vice-president, Interactive Avenues, a digital agency which is part of IPG Mediabrands India.
The second pillar of growth for digital advertising is social media, says Marwaha, since consumers also spend a lot of time on these platforms.
A recent report by Internet expert Mary Meeker, a partner at the US-based Kleiner Perkins Caufield & Byers, says that there are almost 2.5 billion social media users in the world and that social media is now going mobile.
She also adds that social messaging benefits businesses and that companies are increasingly pouring more money into social ads. For evidence, look no further than the social media feed on your smartphone.