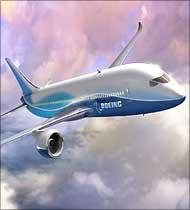 Boeing on Tuesday said president and CEO of its commercial airplanes division Scott Carson will retire from the company at the end of the year, as the city-based plane maker announced an overhaul of its top management.
Replacing Carson would be Jim Albaugh, 59, who was president and CEO of Boeing integrated defense systems.
Dennis Muilenburg, 45, has been named to succeed Albaugh. Both appointments are effective September 1.
The management shake-up comes at a time when Boeing is working to ensure the maiden flight of its long-delayed 787 Dreamliner happens by the end of the year.
Carson, 63, has led the commercial airplanes segment since 2006 and was overseeing the 787 dreamliner programme, that has been delayed about five times so far. Last week, Boeing said the 787 would make its first test flight by year end and the first aircraft would be delivered in 2010.
"Carson and Albaugh will work together to ensure a smooth transition of customer and other business relationships. Carson will also assist on special projects for the company through year end," a company statement said here.
Albaugh, a 34-year company veteran with experience in development programmes and manufacturing, has led Boeing's defence, space and associated services businesses since 2002. Under his leadership IDS revenue grew from 25 billion dollars to 34 billion dollars in 2009, accounting for roughly half of Boeing's annual sales. Muilenburg moves to his new position from integrated defense system's global services support unit, where he served as president of the eight-billion-dollar business that provides global after-delivery support for military platforms and systems, as well as a broad array of defence and government services.
A replacement for Muilenburg would be named at a later date, the statement added.