Subodh Bhargava, chairman of Viom Networks, has decided to quit, citing his "discomfort about the speed at which the business was growing".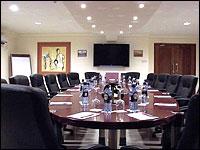 Bhargava's decision comes four months after KPMG submitted a forensics and audit report on the company, after allegations of financial irregularities and diversion of funds by a former company official surfaced last September.
This will be the second high-profile exit from the company in recent months after Arun Kapur, the former chief executive, quit late last year.
Viom, a leading telecom tower company, is a joint venture between Tata Teleservices and the Kanoria family-promoted Quippo, a Srei Group Enterprise. Bhargava was invited by the two partners to be the chairman in 2009, after the tower businesses of Tata Teleservices and Quippo were merged to form Tata Quippo, subsequently named Viom Networks.
Bhargava, who was chairman of the Eicher group, has been involved with several Tata Group companies like Tata Communications (formerly VSNL), where he is the chairman. He is also on the board of Tata Steel, Tata Motors, Larsen & Toubro and GlaxoSmithKline Consumer Healthcare.
He told Business Standard in an exclusive interview: "My disengagement process with the company has been slowly going on for a while. I have now decided to step down and have informed the board. Now, they will have to take a call."
When asked if the KPMG report had a role in his decision, Bhargava said, "Post the report, I decided that it's best that as an independent professional I step down."
Elaborating, Bhargava added, "It's a complex business, geographically widely spread as well. Personally, I also had discomfort about the robustness of certain processes. It's a sensitive issue also when there are supplier-buyer relationships at stake. Plus, the two cultures of the Tatas and Srei are different. After KPMG's report, the company is addressing many of these issues. But till such time, I personally felt as an independent non-executive member of the board, I should step down. Maybe somebody from within would be better here."
Bhargava went on to say that there was a need to distance ownership and managerial perspectives. The board should be independent enough to question the CEO if need be and this aspect becomes even more critical in a JV situation like Viom.
Hemant Kanoria, chairman and managing director of Srei Infra Finance Ltd and a Viom director, said: "I am not aware of Mr Bhargava stepping down. I was travelling overseas."
Viom has more than 38,500 towers and around 95,000 tenancies. It plans to roll out 20,000-25,000 additional towers in two years. The Tata Group has close to 54 per cent stake in the company, while the Srei stake has been coming down over the last few years and currently stands close to 18 per cent.
Last September, the company had first run into controversy over charges of financial irregularities when a former company secretary alleged the Kanorias had diverted funds to the tune of Rs 300 crore to private institutions. The company had appointed KPMG to assess the extent of the graft and probe other charges of related party transactions.
However, the Kanorias maintain there has been no wrongdoing. When the controversy first broke, Kanoria said the company secretary was fired on July 25, following which he made the allegations. "Since the company has a whistle-blower policy and shareholders maintain high standards of corporate governance, it was decided to appoint an independent auditor," he had then said.
Subsequently, the Kanorias publicly came out, saying the KPMG audit found all allegations against them baseless. "All allegations were probed and found baseless. KPMG has made the presentation and there is no issue. The allegation was not on the Kanorias, but was more on the CEO," said Sunil Kanoria, a director in the company. 
Even though Kapur, who quit thereafter, cited personal reasons, sources said the majority JV partner had forced him to go after allegations of irregularities. The Tatas, industry sources said, had not been happy with the company's functioning  and had been looking at ways to consolidate their control over the company run and managed by the Srei group. It had, the sources added, even initiated a dialogue with a few marquee financial investors and PE players to buy out the minority partner.
There are already other PE investors in the company. In August 2010, Macquarie SBI Infra Fund had picked up 11 per cent stake for Rs 1,400 crore (Rs 14 billion).