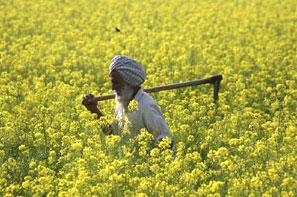 Several BJP-ruled states on Friday criticised the Land Acquisition Act, saying it was enacted "in a hurry" due to Lok Sabha elections and its provisions were adversely affecting even small projects.
The strong views of the BJP governments were aired in a meeting of revenue ministers of states convened by the Centre.
Amid reports that the NDA government plans to dilute certain provisions of the Act, brought in by the previous UPA government, to help the industry, Rural Development Minister Nitin Gadkari said his government will protect the interests of farmers.
"As far as the interest of farmers is concerned, especially compensation, rehabilitation and resettlement, our party and government have already decided we will not compromise any condition related with beneficiaries, particularly farmers. BJP government is committed to protect the interest of farmers," he told reporters.
Sources said Goa, Chhattisgarh and Madhya Pradesh, all ruled by BJP, strongly criticised certain aspects of the Act and demanded "some relaxation".
Gadkari said we have taken note of issues raised by states and will prepare a report which will be submitted to Prime Minister Narendra Modi in ten days.