It's business as usual at The Lalit in Delhi, even after the Delhi Pollution Control Committee (DPCC) served a closure notice on the hotel with immediate effect for flouting environment norms.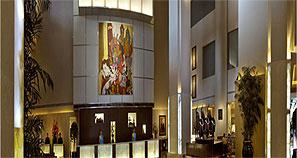 While the hotel management has denied having received any such notice, DPCC has swung into action, asking water and electricity providers to cut the supply to the hotel.

Since DPCC is a regulatory body without any enforcement powers, it can't directly implement its order. A senior DPCC official told Business Standard that the directive was issued after the firm failed to act on its earlier notices. DPCC issued the first notice on December 20 last year.
"Environment norms are part of criteria for hotel classification by the Hotels and Restaurant Approval Classification Committee (HRACC) under the tourism ministry. If a hotel doesn't follow the guidelines, its star rating can be taken away by the panel," said Kamlesh Barot, former president, Federation of Hotel and Restaurant Associations of India (FHRAI).
There have been instances of hotels being asked to shut shop for violating environment norms. Four years ago, the Maharashtra Pollution Control Board had asked almost 20 of the 300 hotels in Mahabaleshwar to close for not having a sewage treatment plant. The same year, Le Meridien in Delhi was also given a closure notice for not fulfilling safety norms.

An official of the The Lalit group said, "We are trying to have all the environment-friendly fixtures in place alongside operations. Such things will take time when the hotel is fully functional and occupied with guests.
"After the December notice, a workshop was organised for hotels in Delhi in February and most of the star hotels agreed to comply with the environment-friendly measures. Following this, a memorandum of understanding was signed with the hotel managements, including The Lalit. However, even after so many inspections, the facilities, including the effluent treatment plant, rainwater harvesting and sewage systems, were either not in place or in proper order as per the guidelines.
"All the other hotels have complied with the norms or they have initiated steps towards the same," the DPCC official said.

DPCC inspected the premises in September this year also. "However, even after the final inspection in October, there was no headway. We had given them time for almost a year," he added.