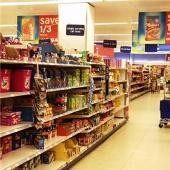 After closing down over 100 stores, the Birla group's retail venture is pushing private labels and slashing costs to achieve break-even.

By his own admission, the last 30 months have been one of the toughest in Thomas Varghese's 29-year career. 
The 50-year-old chief executive of Aditya Birla Retail, however, quickly adds that they have been 'very interesting and challenging too'.

'Tough' because 'more', the group's retail chain, had to close over 100 loss-making stores in the last two years, and 'interesting and challenging' because the slowdown in 2008-09 gave an opportunity to review the business model, says Varghese, an IIT Delhi graduate.

'more', which has 535 supermarkets and eight hypermarkets, started operations in early 2007 with the acquisition of Trinethra Super Retail, a south India-based supermarket chain and later announced a 1,000-store network with an investment of Rs 9,000 crore (Rs 90 billion) over three years.

So did other retail chains till the slowdown upset all calculations.

Left with expensive properties and dwindling sales, retailers had to shut stores to stem losses while others such as Subhiksha and Vishal Retail went for corporate debt restructuring.

Analysts say 'more' is now focused on profitability after Varghese took over following the exit of Sumant Sinha and other key executives in mid-2008.

"All businesses require time to stabilise. Birlas were confident enough to remain invested despite initial hiccups. 'more' has seen a good turnaround since then," says Arvind Singhal, chairman, Technopak Advisors, a business consultancy.

Varghese agrees.

"We are not in the business to make valuations. Our aim is to make profits," says Varghese, adding 'more' is on track to achieve break-even by FY 2013. He expects the chain to end the year with a 20 per cent increase in revenues to Rs 1,740 crore (Rs 17.4 billion) in FY 2011.

In comparison, Reliance Retail, which entered the sector in mid-2006, is expecting a break-even in a year or two. It did a business of Rs 4,500 crore (Rs 45 billion) in FY 2010 and currently runs over 1,000 stores across 19 formats.

Focus on profitability

'more' has already said it could miss its earlier revenue target of Rs 18,400 crore (Rs 184 billion) by financial year 2014, as it closed down a number of stores and did not open new ones as planned.

In FY 2011 itself, it planned to open 103 supermarkets but Varghese says it can open 60-70 at most given the delay by developers in handing over properties.

Varghese says he approves new openings only if a supermarket can be made profitable in 12-15 months. The timeline for hypermarkets is 12-18 months.

Retailers such as 'more', Future Group and Spencer's are focusing more on hypermarkets due to large volumes and economies of scale.

"While Birlas are focusing on hypers, they are working on making supermarkets profitable," says Anand Raghuraman, Partner and Managing Director at Boston Consulting Group.

Varghese says 'more' has been working on improving revenues and margins, and reducing operating costs to achieve its goal. It has brought down the store operating costs to Rs 129 a sq ft in case of supers and Rs 110 a sq ft in case of hypers from Rs 150-Rs 165 a sq ft, respectively in FY 2009.

Varghese claims these costs are one of the lowest in the industry.

For instance, RPG's Spencer's Retail has a store operating cost of Rs 165 a sq ft, (Rs 110 as operating costs and Rs 55 a sq ft as rent.)

'more' has also brought down the percentage of rent to its revenues to 4.5 per cent from the double digit level around two years ago. "We are very clear about what price to pay for the properties," he says.

He recalls how the chain used to lease large properties just because they were available at lower rents, hoping that they can be made profitable.

"Today we have become realistic in store size. We will not book 6,000 sq ft just because they are available at Rs 25 or Rs 30 a sq ft," he adds.

'more's supermarkets have an average size of 2,500 sq ft and hypers 55,000-60,000 a sq ft. It now plans to open 12-14 hypers every year and 100-200 supermarkets now on.

Private labels

The retail chain's private labels will also help it to have higher margins and profitability.

For instance, private labels in food and groceries carry margins of 25-35 per cent, while that of national and regional brands give margins of 10-12 per cent. In apparels, private label margins could go as high as 50 per cent.

The chain has around 19 per cent of revenues coming from private labels now. 'more' wants to take it to 35 per cent by 2013.

However, 'more' is not alone in betting big on private labels. Even others such as Future group, Reliance Retail and Spencer's get around a quarter of their revenues from private labels and plans to increase it further in the next couple of years.

The Birla group's next strategy is to bring all its private labels under the 'more' brand.

Currently it has 13 brands in FMCG such as Feasters, 110 per cent, Enriche, among others.

But retailers such as 'more' and others do not have a easy road ahead.

"How do they differentiate themselves will be a big challenge going forward as most of them look similar," says Raghuraman. Secondly, converting customers from kiranas to their stores is also a big challenge, he says.

Varghese accepts this but says 'more' has many differentiators. For instance, it has introduced centralised merchandising in its stores, but makes some 'last mile changes depending on local needs.'

Also, barring a few like D Mart, 'more' has priced its products 5 per cent lower than its rivals.