Biocon has lashed out at Roche a day after the Swiss company secured an order from the Delhi High Court barring the Indian company from marketing its new drug, co-developed with Mylan, as a biosimilar of Roche's blockbuster Herceptin, used for the treatment of HER-2 positive breast cancer.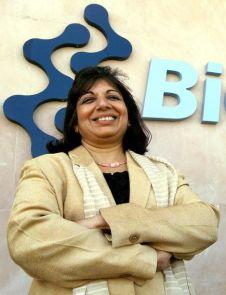 "It is extremely shocking, but not unexpected. This proceeding is an attempt by Roche to protect their market monopoly and prevent Indian patients from accessing a more-affordable Trastuzumab," Biocon said.

Canmab, to be sold by Biocon, and Hertraz, to be sold by Mylan, were launched in India earlier this year as biosimilars to Roche's Trastuzumab, Herceptin, and positioned as more affordable options and targeted at emerging markets.

In anticipation of the launch of drugs, Roche had even slashed the price 50 per cent in India. The products of Biocon and Mylan are priced at a 25-30 per cent discount to Herceptin's price.

On Friday, Roche claimed it had filed the case against Biocon, US-based Mylan and the Drugs Controller General of India (DCGI) as it was its duty to ascertain if the drugs were indeed similar to its own innovation.

Roche has alleged the Clinical Trials Registry in India did not have any publicly-available data on the Phase-I and Phase-II clinical trials by the companies, a mandatory requirement while developing the drug.

"There is very limited information in the public domain and we believe it is important to ensure patients and physicians can make informed decisions. More, as far as we are aware, the Indian regulatory authorities have approved Biocon and Mylan's products as Trastuzumab, by their regulatory process, but it is unclear if the products meet the criteria for biosimilar products," according to a spokesperson
from Roche.
Sources at the drug regulator's office said companies were not required to conduct clinical trial Phase-I and -II for the generic version of drugs already available for sale in other markets, mainly in the innovator market, under the present law.
"All norms and guidelines were followed while granting approval and details will be presented to the court. The company has also filed all required data for ensuring clinical safety and efficacy of the drug," an official at the office said.
DCGI G N Singh refused to comment as the matter was sub judice. Biocon maintained "Canmab and Hertraz adhered to stringent quality standards and had been developed on the basis of applicable biosimilar guidelines."
Another expert involved in the development of the drug said Phase-I and -III is mandatory and -II optional.
About 150,000 new patients are diagnosed with breast cancer every year in India, of which nearly a fourth of the cases are HER2-positive and eligible for treatment with Biocon and Mylan's drug.
The market is estimated at Rs 130 crore a year, and Biocon and Mylan expect to double this market by the end of 2014.
"Biocon and Mylan are committed to affordability & access and are driven by their purpose of expanding the pool of patients that can afford trastuzumab. We are confident that once we are heard by the court, this injunction placing certain limits on promotional activities will not stand," the statement from Biocon said.
On Thursday, the Delhi High Court had placed an injuction on the sale of Canmab and Hertraz as the bio-similars of Roche's Herceptin or references to any data relating to Roche's Trastuzumab in any press releases, public announcements, promotional or other material.
Shares of Biocon Ltd closed at Rs 435.15 apiece, up about 3 per cent, Friday on the Bombay Stock Exchange.