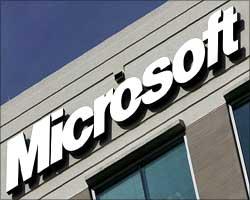 Microsoft's latest attempt in search engine, Bing has broken into the top-20 websites within a month of its launch.
According to a web information company, Alexa, Google dominates the charts but Bing is already at 19th position with about 5 per cent of users from India accessing internet to visit Bing.
ViziSense, another online traffic measurement and metric tool, tells us that since the launch of Bing in India, the traffic on Microsoft sites has gone up. For instance, in the month of May,
Microsoft sites had 2.89 million unique users, those numbers jumped to 4.9 million for June (Bing was launched in June).
On the other hand, Google sites' number declined to 32.20 million for June from 33.10 in May. Even Yahoo! sites registered a jump of 5 per cent in unique users from 7.80 million in May to 8.2 million in June.
While the debate whether Bing can penetrate into a Google-dominated search market continues, we asked a few prominent online users in India to tell us which search engine they preferred and why.
As expected, Microsoft seems to have some serious catching up to do to make Bing the favoured search engine in India.
Google is a habit
I use Google as much from my mobile phone as from my laptop. Bing inherits Microsoft's look and feel, and being an Apple Mac user, this does not really appeal to me by habit. Google, besides being well entrenched, is also much ahead of competition.
I like web applications such as Google Earth. Microsoft seems to have a tough job on its hand in establishing Bing as the favoured search engine.
-Bobby Pawar, chief creative officer, DDB Mudra...
Bing stands for accuracy
One, the results generated by Bing seems more accurate, especially when you are looking for research-related links. On Google, almost every time, the first link is of Wikipedia.
Two, I think search engine optimisation operators are yet to spam Bing and hence the results do not seem to befudged. Moreover, Bing is making an effort to talk to users and find out what they want. They have presence on both Twitter and Facebook.
If I want to do a similar thing with Google, that is not possible. I also like the idea of having an image on the page, Google's white background is boring.
-Vishal Gondal, CEO, Indiagames...
No reason to shift to Bing
Yes, I have used Bing. There are clearly some good features on Bing, but this does not strike out Google. Bing makes use of Web 2.0 tools more generously than Google.
For instance, you don't have to click on any particular link as they provide you with a scroll bar and you need to just point the cursor on it to get a synopsis of that site. Bing's search within search is also very good. Google, on the other hand, is much faster than Bing. It scores on loading, which is a big issue in a country like India.
So, frankly speaking, Bing doesn't give me any compelling reason to shift from Google.
-Atindriya Bose, country manager, Playstation, Sony Computer Entertainment Europe...
Bing's good, Google better
Google is a habit. I just can't get it out of my mind. I think in terms of indexing, both are equal. Google still has a better archival data. Ego searching is better on Google. The beauty of Google is the integration of several of its applications. For instance, I have 117 documents of Google Docs. The total time spent on search would probably be four-five hours a day. In certain specific searches, Bing does give better results, but it is too minor an issue for me to shift from Google.
-Alok Kejriwal, CEO, Contest2Win...
Switching to Bing difficult
JWT is the partner for the advertising and marketing of Bing, globally. In India, we are still to win the account. As such, I haven't yet used Bing myself as I use Google. I realise it will be difficult to switch to using another search engine and Microsoft definitely has a tough task ahead in establishing itself as a reliable alternative.
However, once people are more aware of Bing's service and its benefits, I am sure they will start using it.
-Rohit Ohri, managing partner, JWT