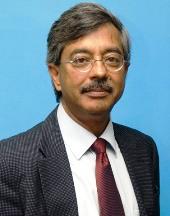 Genpact founder and chief executive officer Pramod Bhasin on Monday stepped down from his post and as member of the company's board.

This brings to an end his 14-year active stint with India's largest business process outsourcing firm.

Bhasin will now take over as a non-executive vice-chairman of the company.

The company on Monday also announced the appointment of N V Tyagarajan as its president and CEO from June 17.

He has also been appointed to the board of directors.

This will be Tyagarajan's second stint as the Genpact CEO.

He was the CEO of GE Capital International Services, a captive business process outsourcing unit of GE, from 1999 to 2002.

In 2003, GECIS sold 60 per cent stake to General Atlantic Partners and Oak Hill Capital Partner, following which it was renamed 'Genpact'.

Rumours about Bhasin quitting the company started almost two years ago, which were denied by the company and Bhasin.

"I believe the company is in a strong position now.

"There is no perfect time to announce this. . . .That doesn't mean I am hanging up my boots. I hope to continue working for another 4-5 years.

"One should move on. Hanging to one position doesn't give opportunity to other people. Now I will do other things. I will explore opportunities in skill development, education or government," said Bhasin.

The timing of the change has taken many by surprise.

"More so, as they recently completed an acquisition," said an industry source on condition of anonymity.

"Genpact announced the acquisition of Headstrong for $550 million (about Rs 2,475 crore or Rs 24.75 billion) recently.

"Even though the timing of Bhasin's announcement is surprising, the succession plan at Genpact was already in place.

"Tyagarajan was considered as the CEO-in-waiting ever since he was appointed as the chief operating officer.

"The recent acquisition of Headstrong, which requires a different strategy and changes in the business model at Genpact, might have prompted the company to announce the new CEO," said Amneet Singh, vice president-Global Sourcing at Everest Group.

Bhasin, who has been at the helm of the company for about 14 years, is also one of the early people to have laid the foundations of the BPO industry.

Bhasin was there right from Genpact's days with GE as a captive to taking it public. and now making it one of the largest BPO firms.

Insiders point out that the company had been preparing for this transition.

In 2009, the company had undertaken a restructuring and had also announced a top management shuffle.

Tyagarajan was then made the COO.

"To have someone of Tiger's (Tyagarajan's) talent and experience ready for this role is a testament to Genpact's deep leadership bench and the strength of its succession planning process.

"On behalf of the board, I would like to thank Pramod for his vision, leadership and outstanding contribution that have built Genpact into a global leader in its industry. He will leave a significant legacy," said Robert Scott, chairman of the board.

Though Bhasin did not give any specific reason for his resignation, in a statement, he said: "We have worked together for over a decade to build Genpact into a truly global leader. I am confident that he is the right person to take Genpact forward in its next stage of growth.

"Along with helping Tiger, particularly in the areas of acquisition integration, organisation development and growth in new geographies, I now look forward to other pursuits."

Bhasin founded Genpact in 1997.

Under his leadership, Genpact pioneered the business process management industry in India.

Tyagarajan began his career with the Unilever Group in India, and then worked with Citibank, India.

He joined GE Capital in 1994 and held a variety of leadership roles in both India and the US until 2005.

Tyagarajan is a mechanical engineer from the IIT, Bombay, and holds an MBA from the IIM, Ahmedabad.
Image: Pramod Bhasin