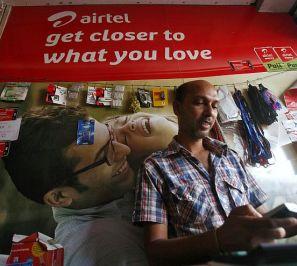 Back in 2010, competition in India's telecom sector was at its peak and Africa was looking attractive, given the low penetration, nearly double the average revenue per user (ARPU) and lower competition, with less than half the number of players as compared to India.
Bharti Airtel, which zeroed in on the Africa assets of Zain, wanted to use its model (of lower rates, higher volumes), de-risk its business and create a dual revenue engine to emerge as a global telecom player. However, while the deal valued at .7 billion increased Bharti's debt for an otherwise nearly zero debt company, it is the muted operational performance which is a cause for worry.
This is reflected in the operating metrics of Africa business with ARPUs declining from $7.3 in FY11 to an estimated $5.7 in FY14, while average revenue per minute (RPM) is down from 6.2 cents to an estimated 4.1 cents in FY14. The company had a target of achieving $5 billion in revenues and $2 billion in Ebitda by FY13, but has not been able to achieve the same and is reasonably far from the target.
The company's quarterly revenue run rate continues to be hover around the $1.2 billion mark while the Ebitda is nearly static at $300 million.
That the company is struggling is also borne out by the fact that MTN and Vodacom (in their African operations) have Ebitda margins of 43-44 per cent compared to Bharti Africa's 26 per cent.
Additional investments and lower rates have also pushed back the payback timeline. Says Angel Broking's telecom analyst Ankita Somani, "Higher investments or capex in 3G in anticipation of data upsurge and rising competition meant higher outgo while the benefits are not visible in the short to medium term."
Analysts say that Bharti is number two in some key circles in the Africa business or facing stiff competition and if the leader (or challenger) cuts the price it has no option but to follow suit putting pressure on its operating profits. However, things are set to change.
With competition easing, peak capex phase behind it, local managers running the show and the company looking at selling its Africa tower assets, expect a better show in quarters going ahead. Says an analyst,
"The company is playing catch up on the margin front and could see some improvement, but till the time it bridges the gap it will continue to be a work in progress." In the domestic business while RPM is inching up led by consolidation and better pricing power, volume growth is still to catch up and the Street is keenly awaiting the launch of Reliance Jio's services which could possibly have some impact in the near term.