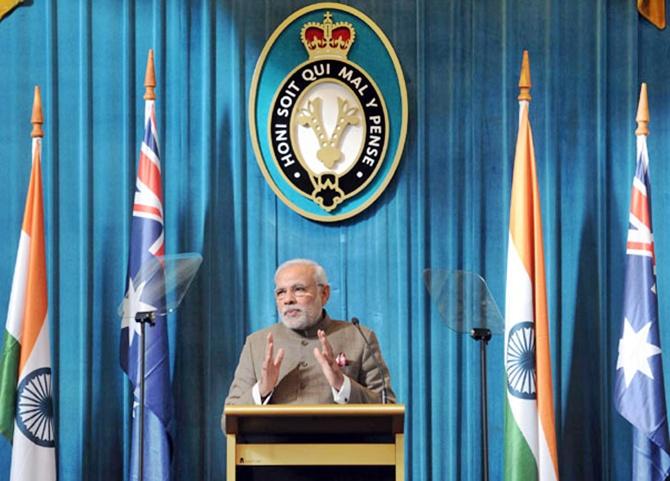 Image: Narendra Modi delivers his address to Business Leaders in Melbourne.
Photograph: PIB
This is the best time to be in India, Prime Minister Narendra Modi said today as he wooed top Australian corporate honchos to invest in the country which is undergoing reforms to improve business environment.
"In India we are working to create conducive environment for trade and industry. We need your partnership," Modi said as he invited Australian businessmen to cooperate in developing green technology, LNG, gas, education and tourism sectors.
"My government is making all efforts to ensure faster, all round inclusive growth to revive the economy, to create policy environment that is conducive, transparent and fair," he said while speaking in English to a gathering of over 600 Australian and Indian business leaders in the Governor's House after a CEO roundtable meeting.
He asked the leaders to forge ties with India saying "you have the best time to be in India...you have the best time to work in India".
"Reforms are being undertaken to enhance ease of doing business," Modi said. The high-profile meeting was attended by top CEOs of Australian corporate world, including mining magnate Gina Rinehart, BHP chief Andrew Mackenzie, Lindsay Fox and Visy Industries chairman Anthony Pratt, ANZ head Michael Smith, Infosys Sr VP Jackie Korhonen, AIBC chair Dipen Rughany, Australia India Institute CEO Amitabh Mattoo and Indian High Commissioner Biren Nanda.
Others who were present at the meet were Adani's Enterprises head Gautam Adani, Mahindra and Mahindra Chairman Anand Mahindra, Infosys CEO Vishal Sikka, Essar Group chairman Shashi Ruia and Gujarat NRE Coke Ltd CMD A K Jagatramka.
Modi said that his government was planning to develop world class infrastructure, including new world class ports, smart cities and low cost airports.
He said government was working for a single window clearance scheme at the federal and state level. "We have recently launched Make in India initiative to encourage growth in manufacturing," he said.
"India has three Ds - Democracy, demography and demand. We are trying to harness strength through good governance...," Modi said while citing that the greatest strengths of India was its 65 per cent of young population below the age group of 35 years.
Earlier he met over 30 CEOs at a roundtable meeting and heard their views on several key issues regarding trade and investment.
He said, "Our economic growth had slowed down in the last few years. But my government is working hard to create an environment to foster growth. The results have been encouraging, the economy registered 5.7 per cent growth, one per cent more than last year," he said.
"I want to draw your attention to the opportunities in tourism. There is immense scope for investing in tourism infrastructure as well," he said.
"I am personally committed to environmental issues. We want to move to gas-based economy. That tells you how many LNG terminals we would need," he said.