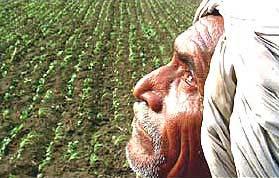 Commissioner of cane development and sugar director A K Monnappa regretted that the benefits of research in agriculture sector were not reaching the farmers adequately though there have been rise in research activities in recent years.


Inaugurating the four-day training programme on improved cultivation of sugarcane and sugar beet for the cane development staff of sugar factories in north Karnataka held at the University of Agricultural Sciences in Dharwad on Tuesday, he said the agronomic and climatic conditions in north Karnataka in general and Belgaum division in particular were conducive for growing sugarcane.


"The land here has the potential to produce 150 tonnes of sugarcane per hectare. However, due to the lack of knowledge on improved cultivation methods the average yield per hectare is confined to 85 tonnes," he said.


One of the reasons for the low yield is that the cane development officers are not visiting the fields and disseminating information on the improved sugarcane seeds available in the market.


"Cane development officials have become cane procurement officials. They should spend more time in the fields addressing the problems faced by the farmers," he remarked.


Sugar industry has assumed greater significance in agro-based
industries after the textile sector in India.
There are nearly 571 sugar factories in the country supporting 35 million farmers. Karnataka is third after Maharastra and Uttar Pradesh in area under sugarcane as well as in sugar production, Monnappa said.


Similarly, in Belgaum division, there are nearly 34 working sugar factories with installed capacity to crush around 147,000 tonnes per day with annual requirement of 23.6 million tonnes.


Now measures are being taken to set up 20 new sugar factories which have the capacity to crush 8.2 mil-lion tonnes of sugarcane, he added.


Monnappa pointed out that there has been a steep growth in sugarcane cultivation this year and the factories are unable to fix the price. The factories in south Maharashtra are not taking cane from the farmers in Karnataka and this has added to the problem.


"We are talking to the factory managements to ensure speedy fixation of price and commencement of crushing," he said.