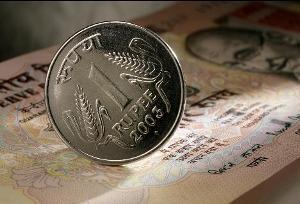 The rupee's relentless rise (it closed at 46.14 to a dollar on Wednesday after touching 46.08 -- a12-month high) has left Rajendra Hinduja worried.
The CEO of Bangalore-based Gokaldas Exports, one of India's largest garment exporters, says the rise is forcing him to forgo new orders, which could impact business in the coming quarters.
''The rupee is hurting us on new contracts; we are not able to close deals and had to forego a good number of orders,'' he says, adding, ''We compete on a 3-per cent margin and if the currency fluctuates by this much, it's a difficult situation,'' Hinduja says.
The 4-per cent rise in the Indian rupee this year, against a 7 per cent depreciation last year, is hurting exporters like him because they become uncompetitive against exporters from Vietnam, Bangladesh or China, whose currencies have not been as volatile.
Worse, the rupee has spoilt the party just when things were beginning to look up. The global downturn saw 20 per cent erosion in volumes for textile exporters like Gokaldas. IT companies, recovering from a downturn, face a similar predicament.
Infosys CEO S Gopalakrishnan says the currency movement will have an impact on the company's guidance and operations. ''Depending on how the rupee, dollar or other currencies fare in the second half, we may end up with more revenue or less, as we have assumed the rupee to be at $47 for this quarter,'' he says.
IT majors hedge between 50 and 70 per cent of their revenues on a one-year rolling basis. A one per cent appreciation in the rupee dents their operating margins 50 basis points and yet some say the rupee may not hurt IT profits this year.
''For us, the impact would be neutral as we had made huge mark-to-market provisions due to forex losses last year. If the rupee appreciates, the MTM reverses and offsets the fall in profits,'' says Mindtree CFO Rostow Ravanan.
The rising rupee will hit exporters if they have hedged their receivables at higher levels but companies will gain on their imports and on their foreign currency liabilities.
What's worrying CFOs is that the rupee has risen sharply in a little over a week on the back of strong inflows, weakening of the dollar vis-a-vis other currencies, and investors moving from dollars to other asset classes (like gold, which has rallied).
Hinduja Group CFO Prabal Banerji says companies with significant exports will take a hit as many of them were under the impression that the rupee will continue to depreciate after the global downturn and they did not hedge such receivables at all.
Many Indian exporters, who cover only 20 to 30 per cent of their exports, may double their cover soon. Ideally, exporters now need to cover 70 to 80 per cent of their receivables, say forex experts. But no one is rushing to cover as they expect the rupee to strengthen, says Subramanian Sharma, director, Greenback Forex Services, a forex consultancy firm.
Exporters today are once-bitten-twice-shy because they could not ride a depreciating rupee between February and April 2008 as they were locked in at much lower rates, says Pushkar Bagga, senior vice-president with forex consultant Mecklai Financial.
Two years back, when the rupee was trading at Rs 39 to the dollar, exporters became scared. They were expecting the rupee to appreciate to Rs 35/36-levels. When the rupee moved up to Rs 40, many panicked and sold their dollars (receivables) forward; more sold at Rs 41 and a majority of them had covered their receivables at Rs 42.
''For three months, the rupee was trading between Rs 42 and Rs 52, but nobody had a chance to sell,'' recalls Bagga.
Having taken a hit, exporters want to cover for a shorter duration (3-6 months). Besides, exporters expect the rupee to correct and pull back (depreciate), which is when they would like to increase their cover.
Mindtree's  Ravanan feels the environment is unpredictable. ''The markets continue to be volatile. There's nothing much one can do in terms of strategy, except be conservative, stick to your hedging policy, and see where the rupee goes,'' he says.
Some exporters are however putting up a brave face. For example, Gitanjali Gems CEO Mehul Choksi says the rupee may not hurt jewellery exports as "it will only increase our product prices 1 to 6 per cent". Given a resurgence in volumes as rough diamonds are in short supply and prices have shot up, exporters should be able to pass on price-rises because  India has a  near-monopoly in this business, he says.
Meanwhile, companies that had borrowed foreign currency loans when the dollar was trading at Rs 48-52 in the last six months, would be sitting on significant gains on these loans unless they have hedged these loans at higher levels. Similarly, companies would gain on imports. With people expecting the rupee to strengthen in the medium term, most companies have left imports and loans uncovered.
Experts feel Indian companies have more forex liabilities than receivables (except IT companies) so they will benefit more from the strengthening of the rupee.