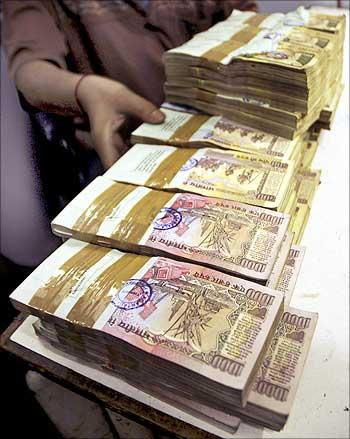 The rising spends on credit cards, increase in sale of third-party products and surge in consumer loan demand have allowed banks to limit the impact of slowdown in corporate fee income.
Top private lenders in the country are witnessing a significant growth in retail fees, even as corporate fee income continues to dwindle in the current uncertain economic environment.
Axis Bank, the third largest private sector lender in the country, reported 43 per cent year-on-year rise in retail fee income during the second quarter.

The bank's corporate fee income increased by 15 per cent, while small and medium enterprises (SME) and agri-banking fees expanded by 17 per cent during this period.
"We continue to see strength in our retail fees. Growth in retail loans and increase in card spends are contributing to this rise. Also, the stock market is doing well and, hence, there is a demand for mutual funds. Demand for other third-party products like life insurance is expected to improve further from January. We are confident of a good show in our retail fees this year," a senior official at Axis Bank told Business Standard.
Retail fee income of banks typically comprises commissions they earn from sale of third-party products, like insurance and mutual funds, transaction charges on savings and current accounts, processing fees on consumer loans and credit cards, and fees from foreign exchange transactions and remittances.
Credit card spends increased by 27 per cent from a year-ago period to Rs 47,911 crore during April-August this year. Also, for most banks, the retail loan growth has outpaced the increase in their corporate advances so far in the current financial year.
Sector analysts said this resulted in higher retail fee income for banks, and they expected this trend to continue in the next two quarters.

"A growth in retail fees has offset the sharp decline in corporate fees. We have been highlighting possible slowdown in the overall fee momentum as a risk to earnings. But, the current retail fees momentum makes us more confident," said an analyst with a local brokerage.
IndusInd Bank saw 40 per cent year-on-year rise in its core fee income last quarter, while overall fee income was up 34 per cent during this period.
"Fee, on the core-fee side, which is customer elements, has surpassed even our expectations. The overall fee was depressed compared to core fee only on account of one particular line, which is trading income," Romesh Sobti, managing director and chief executive of IndusInd Bank, said in his post-earnings comments.
HDFC Bank also witnessed a significant growth in its fee income, which increased by nearly 20 per cent year-on-year in July-September, driven by strong performance on the third-party commission front.
ICICI Bank saw a marginal increase in its fee income to Rs 1,709 crore in the second quarter from Rs 1,700 crore in the corresponding period last year. The growth was muted as the bank had not been aggressively growing its retail assets, and it has started expanding it only recently.
Also, slowdown in corporate fees capped the overall fee income growth.
"I have indeed seen fee growth numbers of about 20 per cent in the market. But, if we look at those banks, largely the fee driver has been through retail assets. Given that our retail assets have just about started growing in double digits and the growth has gone up to 14 per cent in this quarter only, that part of the fee income growth has been more subdued for us compared to some of our competitors," a top management executive of the bank told analysts after its second quarter earnings.
"At the starting base, we had a much higher share of project finance and large corporate lending-related fee income. That has actually declined. We have tried to offset this by increasing granularity of our fee income through commercial banking and foreign exchange fees. We do recognise that a short-term adjustment phase in terms of fee income composition will be there for us, but the endeavour would be to grow the fee income on an overall basis," he added.
RETAIL TO THE RESCUE
Rising spends on credit cards, increase in sale of third-party products and surge in consumer loan demand have allowed banks to limit the impact of slowdown in corporate fee income
Retail fee income typically comprises commissions earned from sale of third-party products, like insurance and mutual funds, transaction charges on savings and current accounts, processing fees on consumer loans and credit cards, and fees from foreign exchange transactions and remittances
Credit card spends increased by 27 per cent from the year-ago period to Rs 47,911 crore during April-August this year
Also, for most banks, the retail loan growth has outpaced the increase in their corporate advances so far in the current financial year