While the total disbursement of housing loans by PSBs as well as HFCs witnessed a deceleration in 2016-17, there was significant growth for the lower slabs
Illustration: Uttam Ghosh/Rediff.com
While the Reserve Bank of India (RBI) has been cautioning against the pile-up of bad loans in the affordable housing segment, home loans to sub-prime borrowers have emerged as a whole new category in the market.
According to data from the National Housing Bank (NHB), there are about 91 housing finance companies (HFCs) operating in India currently.
Within the past two to three years, close to 15-20 companies have come up with a focus on lending to the informal sector, where borrowers typically don't possess the requisite documents to avail of loans from banks or bigger financial institutions.
In the past one year, there has been a particularly steep growth in micro housing loans, or loans below around Rs 500,000 (Rs 5 lakh).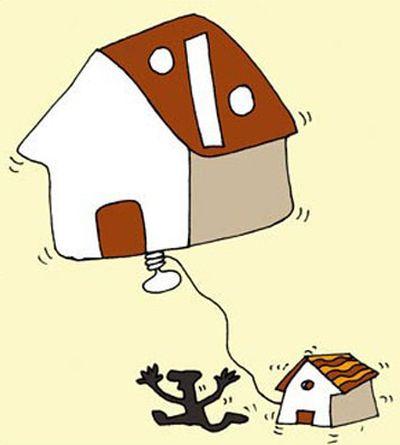 These sub-prime, or 'thin-file' customers, as they are commonly called, as opposed to 'thick-file' customers, are charged interest rates that are 5-6 per cent higher than the prevailing market rate.
A typical borrower could be an artisan, driver, domestic help or daily wage-earner.
What differentiates the loan from normal housing loan is the monthly repayment cycle, along with tight monitoring of the portfolio through personal contact - a model similar to microfinance. However, unlike the microfinance model, the loan in the micro housing sector is generally granted with collateral, which comes in the form of paltry savings.
Last month, the RBI in its monetary policy said, "After a careful analysis of the housing loans data, it has been observed that the level of NPAs (non-performing assets) for ticket size of up to Rs 200,000 has been high and is rising briskly."
However, for the new class of micro housing loan lenders, the circumstances are just apt for limitless growth. While the government has prioritised housing for all by 2022, the market for affordable housing remains an unclaimed territory.
The Pradhan Mantri Awas Yojana (PMAY), launched in 2015, expects to provide close to 20 million houses through various subsidy and partnership plans.
"For mortgage lenders, the affordable housing segment has been both a large opportunity and a large challenge. Over the past five years, a significant number of HFCs have focused on the affordable end of the housing markets and built a robust business model around it.
"We are seeing strong growth, good profits and significant interest from equity investors in such HFCs.
"From the standpoint of the clients, pricing is high as compared to what prime borrowers pay. But, availability of credit and a convenient 'thin file' process are key factors driving the growth," said Alok Prasad, former CEO, Microfinance Institutions Network (MFIN).
Micro Housing Finance Corporation (MHFC), India Shelter, Shubham, Aptus, and Aspire (a subsidiary of Motilal Oswal Securities Limited) are some of the prominent firms now catering to the low-income group housing needs.
MHFC, which has been operational since 2008, witnessed nearly 40 per cent growth in the past one year, with a current loan outstanding portfolio of about Rs 400 crore and gross NPAs of one per cent. The company booked a profit of about Rs 10 crore last year, against Rs 60 million the previous financial year.
"While the industry is growing at around 50-100 per cent, we were slightly cautious in our growth.
"Much of the growth in the micro housing segment has come in the past 18 months because of the government push towards affordable housing.
"While the government promises housing for all by 2022, even if 10 per cent of the target is met, it means the potential of 2 million new customers," said Rajnish Dhall, managing director, MHFC.
India Shelter, which has a loan outstanding portfolio of about Rs 850 crore, too, has been registering around 60 per cent year-on-year growth, with NPAs of about 1.4 per cent, according to its founder and CEO Anil Mehta.
Nivara Home Finance, a recent entrant in the micro home loan market, mostly offers loans to those who possess small parcels of land but lack funds to build houses.
"Our typical clients are workers -- such as carpenters, drivers, barbers or domestic helps - who possess some land from ancestral property.
"The growth in the segment is quite robust. In a small period of time, we have a loan portfolio of about Rs 100 crore and we are targeting to double the portfolio in the next one year," said C V Rao, managing director and CEO, Nivara.
While some of the bigger names in micro housing loans might not have seen a steep rise in NPAs, according to data from the RBI, the rise in NPAs in housing loans below Rs 200,000 last year was solely on account of HFCs.
Overall, NPAs in home loans below Rs 200,000 (Rs 2 lakh) increased from 9.8 per cent to 10.4 per cent between 2015-16 and 2016-17 - only a marginal rise. NPAs for HFCs rose from 6.1 per cent to 8.6 per cent, while that for public sector banks (PSBs) fell from 12 per cent to 11.9 per cent in the time period.
"The affordable housing segment is expected to be the next big growth driver of the Indian economy with property pundits predicting a phenomenal growth rate of over 30 per cent in the medium term," said Arvind Hali, managing director and CEO, ART Affordable Housing Finance (India) Ltd.
While the total disbursement of housing loans by PSBs as well as HFCs witnessed a deceleration in 2016-17, there was significant growth for the lower slabs, from about 12.6 per cent to 23.5 per cent (below Rs 1 million).
The overall home loan growth fell from 23.9 per cent to 10.8 per cent in 2016-17.