Banks and housing finance companies (HFCs) are trying to figure out their exposure to real estate projects in Noida Extension, which have come under cloud after courts cancelled land acquisition in several villages by Greater Noida authorities.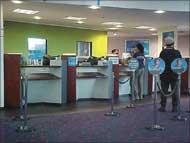 It is estimated that banks and HFCs have disbursed Rs 1,000-1,200 crore (Rs 10-12 billion) of home loans to buyers who have booked flats in Noida Extension though they may have sanctioned loans worth Rs 10,000-12,000 crore (Rs 100-120 billion).

Besides, banks have also lent directly to builders, not known yet, as builders are not willing to discuss their debts.

Nearly 100,000 flats have been sold in the area, an estimated 50-60 per cent of these have been funded through home loans, say broker and builder sources.

Assuming an average price of Rs 20 lakh per apartment, these flats will cost buyers Rs 20,000 crore (Rs 200 billion). Luckily, banks have disbursed only 10-15 per cent of these loans, as most buyers had opted for construction-linked payments, say brokers who have sold these loans.

If 60 per cent of the buyers, or 60,000 people, availed home loans and only 10 per cent of the loans have been disbursed, the banks have already disbursed Rs 1,200 crore (Rs 12 billion) of loans.

HDFC MD Renu Karnad said she would need time to figure out the lender's exposure in Noida Extension.

"These
are smaller houses, so the average cost was lower. Buyers have paid only 10-20 per cent of the cost; we have disbursed only a few installments," she said. In many cases though, buyers have paid 30-40 per cent of the cost.
HDFC and LIC Housing were the most aggressive lenders in Noida Extension, say builders and brokers in the area but almost all banks were active here.
These include IDBI Bank, Axis Bank, Bank of Maharashtra, Corporation Bank, and ICICI Bank.
Bank of Maharashtra Executive Director M G Sanghvi said the bank was trying to gather details on home loans in this area.
"The bank was not aggressive in sanctioning home loans in the Greater Noida region. The picture will get clearer by the weekend," he said.
But banks have also extended construction loans to builders, the details of which will be known in the next few weeks. Bank of Maharashtra, for instance, has extended a Rs 400-crore to Amrapali.
"The bank has adequate collateral for its exposure. It does not expect any problems (on repayments)," said Sanghvi of Bank of Maharashtra.
R V Verma, chairman of National Housing Bank which regulates housing finance companies, said HFCs and banks should review their exposure to such loans.
"The regulator would also take stock of lenders' exposure. The effect of court verdicts will vary for different stakeholders. Going forward, banks and HFCs will have to factor in such situations in their business models," Verma added.