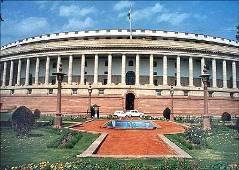 The government on Friday shot down a suggestion in the Lok Sabha for setting up a committee under the member of Parliament in respective constituencies for monitoring disbursement of loans by banks to priority sector like agriculture, small and medium enterprises.
"My response is no. We cannot allow commercial activities of banks to be supervised by the representatives of the people," finance minister Pranab Mukherjee said in the Lok Sabha during Question Hour.
Jagdish Sharma of Janata Dal-United asked whether the government would consider forming a committee under the chairmanship of the member of Parliament of the concerned constituency to monitor disbursement of loans there.
Many years ago this issue was debated and a committee was appointed under the chairmanship of V K Krishna Menon, he said, adding, "At that point of time the public sector was coming and so it was suggested that the committee of the Parliament represented by the committee on public undertakings could look into the functioning of the public sector.
"But individual MPs or individual banks or their transactions cannot be allowed to be looked into by the MPs or by any extraneous elements," he said.
Replying to another remark by a member that bank managers do not listen to the suggestions by them, the Minister assured the House that such cases would be looked into.
"Surely I will issue instruction, it is expected that the MPs should be extended due courtesy.
"If a public office holder and somebody does not do it, it is dereliction of duty but at the same time I will request the MPs, as I sometimes receive individual loan application and for advocacy for individual loans, is not the job of the members of Parliament," Mukherjee added.