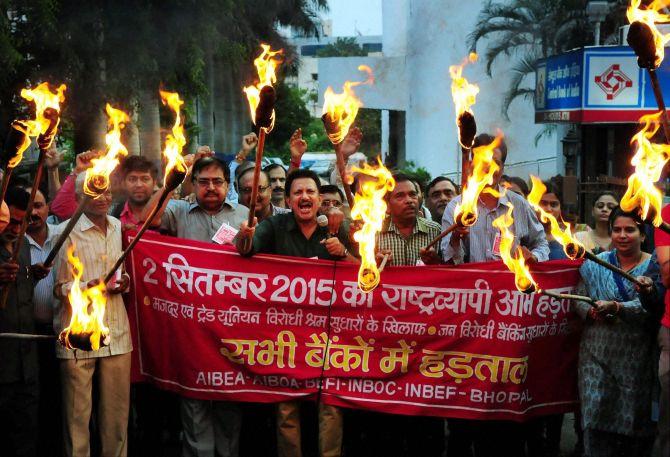 Image: Bank workers take out a torch rally in Bhopal in support of 2nd September strike to protest against the proposed labour reforms by Central and State Government. Photograph: PTI.
Banking services across the country were hit on Wednesday by the day-long strike by 10 central trade unions and 14 bank unions, but workers of largest lender SBI and a few other banks stayed off the agitation.
While an RBI spokesperson said the central bank's unions did not participate in the strike and "there was no impact on the clearing operations", its staff at some centres, including in the National Capital, joined the strike.
The 14 bank unions, counting a membership of over 10 lakh heads (excluding close to 3 lakh SBI employees) extended their support to the day-long protest against what they call the anti-labour and anti-public sector policies of the government.
Employees and officers from 24 public sector banks, 11 private sector banks, nine foreign banks, 56 regional rural banks, 650 cooperative banks, employees of Nabard and Sidbi joined the strike.
All India Bank Employees Association General Secretary C H Venkatachalam told PTI that over half of the 10 lakh banking sector workers supported the strike.
Impact was more visible among the lower level staff. Banks said only clearing of cheques was affected. "The strike was majorly supported by workmen. Most of our branches worked normally. There was a partial impact," Dena Bank executive director R K Takkar said.
Nation's largest lender SBI's employees stayed away from the strike. "We were not on strike. All our employees worked normally today," SBI deputy managing director and CDO Ashwini Mehra said.
Venkatachalam said that besides PSU banks SBI and Indian Overseas Bank, private sector lenders ICICI Bank, HDFC Bank, Axis Bank and Yes Bank did not join the agitation.
While clearing business was affected across the country, banks had fully stocked the ATM machines. Private sector banks which joined the stir included Federal Bank, Karnataka Bank, Karur Vysya Bank, Kotak Mahindra Bank, Catholic Syrian Bank, Dhanlaxmi Bank and Ratnakar Bank.
Venkatachalam said that banking sector has joined the stir to protest against central government's anti-labour and pro-corporate policies. Bank unions said the strike paralysed the entire banking system and disrupted all major related activities.
"We were successful today. We will continue our protest against the government plans to privatise public sector banks and hand them over to corporates," an office-bearer of the All-India Bank Employees Association said, adding they were also opposed to the entry of payments banks.