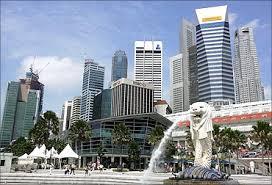 It is still a long way to go for Indian banks seeking to enter Singapore, one of the world's largest financial hubs.

With strict entry guidelines, Singapore is insistent on Indian banks maintaining a high quality capital adequacy, an issue that has become a sore point between both countries.

As a result, the long-pending review of the India-Singapore Comprehensive Economic Cooperation Agreement has remained stuck.

The CECA was signed in 2005.

A review of the trade deal was launched in May 2010 to update and expand it.

Both sides seem to have locked horns over giving Indian banks more access to the booming Singapore market.

As of now, only ICICI Bank and State Bank of India are operating there.

The main issue has been that of a higher Asset Management Ratio as has been prescribed by the Monetary Authority of Singapore for qualifying full banks from India.

Currently, Singapore prescribes an AMR of 70 per cent for State Bank of India and ICICI, compared to 35 per cent for other foreign banks or QFBs such as Standard Chartered, BNP Paribas or Citibank.

"The very high and differential treatment in respect of applicability of AMR for Indian banks compared to other foreign banks is adversely impacting the viability and profitability of Indian QFBs present there.

"In fact, the high and differential AMR requirement is one reason why there is no application for a third QFB licence from any other (Indian) bank," a senior ministry of external affairs official told Business Standard.

Under the CECA, Singapore had said it would allow three Indian QFBs to set up shop there. The matter is being handled by
the Reserve Bank of India and its Singaporean counterpart, MAS.
India has insisted its banks be allowed greater access there because they are soon going to be compliant with the Basel-III norms.
RBI has asked Indian banks to fully comply with the norms by March 2019, under which they have to improve and strengthen their capital planning processes.
According to officials in the ministry of commerce and industry, Delhi has asked Singapore to share the rules based on which AMR requirements are fixed and grant Indian banks a level playing field.
This is going to be also raised by commerce and industry minister Nirmala Sitharaman during the Asean-India economic ministers meeting at Nay Pyi Taw, Myanmar, on August 26-27.
"They have certain rules and regulations which they are not going to change.
They should understand that Indian banks follow Basel-III norms now and for strengthening of ties, a robust banking channel is the key," said R U Das, professor, Research and Information System for Developing Countries (RIS).
During the recent visit of External Affairs Minister Sushma Swaraj there last week, the matter was taken up. According to the joint statement, both sides agreed to complete the talks "expeditiously", to send a "positive signal to the business community".
According to Biswajit Dhar, director-general of RIS: "Singapore has become a classic tax haven, where they accept all our private funds which are then routed back to India, but they don't let our banks operate professionally there."
Singapore is the second largest source of foreign direct investment to India, accounting for 12 per cent of the country's total FDI inflows.
Bilateral trade reached $19.4 billion in 2013-14 from $4.2 billion in 2003-04.