Baahubali 2, made at an estimated cost of ₹200 crore, will earn more than ₹500 crores through commercial tie-ups alone, says T E Narasimhan.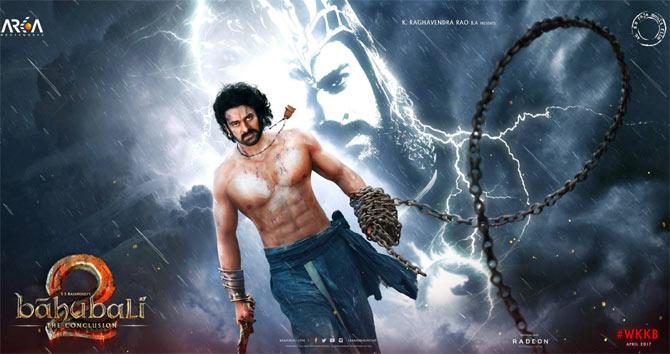 The makers of Baahubali 2 plan to cash in on the movie's popularity by tying up with about a dozen commercial brands for its second instalment, whose production cost is estimated to be ₹200 crore.

While Nestlé's commercial association with the much-awaited film has already been announced, other names, including Britannia and a mobile phone brand, are expected to be made public in the coming weeks.

Shobu Yarlagadda, producer of Baahubali 2: The Conclusion, said that since Baahubali had become a brand now, it was decided to capitalise on it, both commercially and socially.

The excitement around Baahubali 2 was quite evident when its trailer became the seventh most-watched online video within 24 hours of its launch.
The trailer has crossed over 100 million views on YouTube so far.
The movie is set to release in over 6,500 screens across the country on April 28.
Baahubali 2 has signed deals worth over ₹500 crore, mainly for the sale of its theatrical and satellite rights; according to reports, this is almost double the money earned by Rajinikanth's Kabali through pre-sales.

Yarlagadda did not comment on how much he is expected to earn through the commercial tie-ups, but said at least 10-12 big brands would be roped in for co-branding, TV commercials, outdoor activities, etc.

Nestlé is expected to bring out a special packaging for Baahubali 2. The partnership will be activated through the launch of five new Munch limited edition packs and a high-decibel television campaign, supported by exclusive social media content, he said.

The Baahubali team also joined hands with Fueladream, a crowdfunding platform that conceptualised an initiative that allows fans, and those who want to fund a charity, to make a difference to the lives of the children with life-threatening ailments by contributing money.
The donors will get unique rewards, such as T-shirts autographed by the stars of Baahubali -- Prabhas and Rana Daggubati.
Those who will donate larger amounts may even get tickets for the first day show.
The producers are trying to earn revenue through Baahubali-inspired books, comics, novels and video games as well.

Baahubali was released in 2015 and earned ₹650 crore at the box office, making it one of the highest-grossing Indian films ever, according to reports.