Use of composites offers the possibility of bringing down the numbers of parts in a big way and, therefore, costs as well.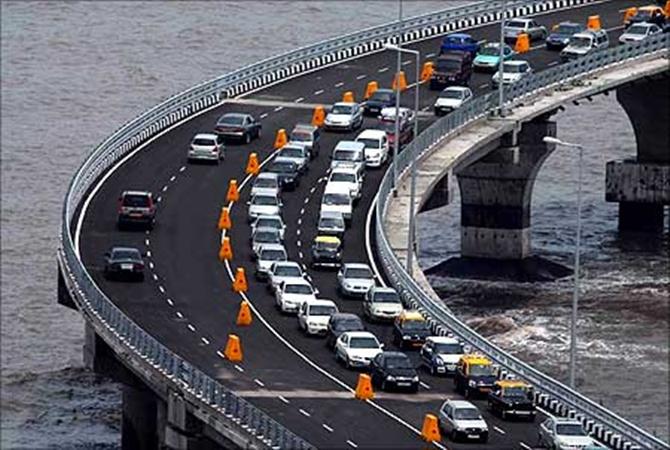 As the slugfest is to continue between aluminium and steel over which of the two metals is ideal for use in automobiles, a new material -- carbon-fibre composites -- is snapping at the heels of the incumbents.
The new material is very strong -- it has a very high strength-to-weight ratio -- and is built with thin filaments of carbon.
The fibres are then made into cloth with plastic resin as the binding material.
Besides strength, the final product has other positive attributes.
A recent technology feature on 'new materials' in The Economist cites the example of a futuristic BMW factory in Leipzig dedicated to making i3 and i8 electric and hybrid cars with parts made of carbon composites, replacing aluminium and steel.
Compared with a conventional unit, the Leipzig factory saves 50 per cent on energy and 30 per cent on water.
Yet another distinctive feature of the factory is the quietness of operation with robots engaged in assembling body section in the absence of any 'thundering metal-stamping machines or showers of welding sparks', says The Economist.
Corrosion-resistant carbon composites score over steel in a big way both in strength and lightness.
The success of aluminium in finding progressively bigger application in the automobile industry is because it has one third the weight of steel and is also highly malleable and elastic.
Carbon composites in turn being 30 per cent lighter than aluminium and also incredibly strong has come for large use in the making of very large aircraft.
Boeing's 787 Dreamliner uses composites for half its airframe, including the fuselage and wings.
Similarly, composites accounts for half the weight of Airbus' super-jumbo A380 and A350. Boeing and Airbus have opted for large-scale use of composites to reduce the weight of their aircraft, thereby improving fuel efficiency.
The thumb rule is each kg reduction in weight results in savings of $1 million in costs over an aircraft's lifetime.
Aircraft manufacturers find major improvements in aerodynamic performance of components when these are made of composites.
Take a guess of the number components to be found in the double-deck, four-engine A380 with a capacity to carry 544 passengers.
These are close to six million.
Use of composites offers the possibility of bringing down the numbers of parts in a big way and therefore, costs as well.
"We will mould all the parts together at the same time, so our perception of what a single part is will change," Colin Sirett, research head of Airbus in the UK, told BBC News.

Whatever the positives, application of composites is restricted by the fact that these are a lot more expensive than steel or aluminium.
The Economist says: "In the past, the production process was expensive, slow and labour-intensive."
This is precisely the reason why the use of composites remains largely restricted in the making of fighter jets and Formula 1 racing cars where defining considerations are speed and safety and not cost. The global composites market is an estimated $30 billion.
But, in spite of high prices, their demand is growing at an annual rate of 15 per cent, against 5.1 per cent for aluminium and less than one per cent for steel. Worryingly for both aluminium and steel, the demand for composites holds the potential of continuing to grow at high rates over the long term.
This is, however, conditional upon the cost of the material continuing to fall. Also, the supply chain management from the precursor to composites -- polyacrylonitrile thermoplastic to woven sheets -- must improve radically.
Yet another major cost-saving area discovered by aircraft and car makers is adding speed to making parts from composites and their assembly.
The Economist says composites allow "large sections of the aircraft (A380). . . made in one go instead of having to join together lots of smaller aluminium panels".
The constraining factor for aircraft and car makers is to get the volume up considerably to speed up composites parts production process.
Cars made at BMW's Leipzig factory are expensive.
Even then, these have achieved some volume to support composites use.
More and more carmakers will start using composites, but along with other materials.
Like it is happening with aluminium and steel's research partnerships with automakers, Airbus is collaborating with the UK's National Composites Centre on modelling of new industrial designs and materials.
Renewed focus on product quality improvement shows incumbent materials are taking emerging competition from composites seriously.
The image is used for representational purpose only. Photograph: Sahil Salvi