Volkswagen is under huge pressure to act, with its shares down more than a third in value since the crisis broke, and the bad news still coming.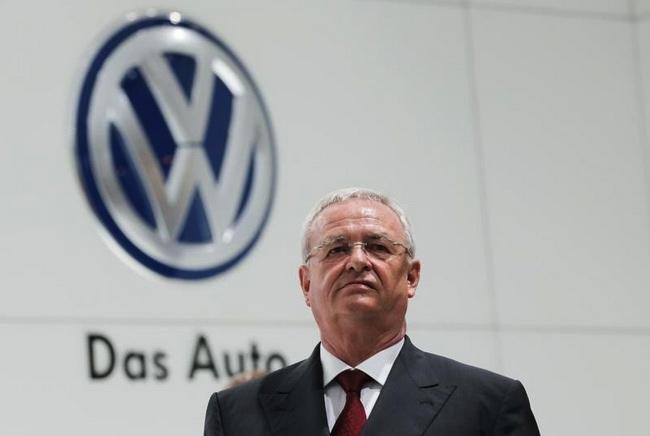 Image:

V

olkswagen chief executive Martin Winterkorn in trouble. Photograph: Reuters
Volkswagen chief executive Martin Winterkorn faced a reckoning with his board on Wednesday, summoned to explain the falsification of U.S. emissions tests in the biggest scandal in the 78-year history of the world's largest carmaker.
A source close to the company said a five-member executive committee was grilling Winterkorn at the company's headquarters in Wolfsburg, Germany, and was likely to make a recommendation on his future ahead of a full board meeting on Friday.
Volkswagen is under huge pressure to act, with its shares down more than a third in value since the crisis broke, and the bad news still coming.
German prosecutors said on Wednesday they were conducting a preliminary investigation into the manipulation of vehicle emission test results at Volkswagen, while French Energy Minister Segolene Royal said her country would be "extremely severe" if its investigation into the firm found any wrongdoing.
German Chancellor Angela Merkel has urged Volkswagen to move "as quickly as possible" to restore confidence in a company held up for generations as a paragon of German engineering prowess.
But the board is in a tricky situation, with the 68-year-old CEO showing no sign of resigning after a hitherto highly successful eight year reign which saw the company double its sales and almost triple its profits.

Volkswagen passed Toyota in the first half of this year to become the world's top selling car maker.
"VW needs a fresh start and in our view a new CEO," said Evercore ISI analyst Arndt Ellinghorst.
A story in the Tagesspiegel newspaper, denied by Volkswagen, said the board would replace him with Matthias Mueller, head of the automaker's Porsche sports car business.
Winterkorn, who was due to have his contract extended at Friday's board meeting, did not mention his future in a video message posted on the company's website on Tuesday, in which he repeated his apology for a scandal which has wiped out tens of billions of dollars from the company's value.
Shockwaves
Diesel engines account for less than 3 percent of new cars sold in the United States but around half of cars in Europe.
One of their selling points is their fuel economy and low carbon emissions compared to standard gasoline engines, but they also emit more nitrogen dioxide, a toxic gas blamed for some health problems.

The suggestion that their emissions in real world conditions are worse than they appear in tests could harm the whole sector and alter the future of Europe's auto industry.
The U.S. Environmental Protection Agency (EPA) said on Friday Volkswagen could face penalties of up to $18 billion for cheating emissions tests on some of its diesel cars.
The story has sent shockwaves through the car market, with dealers in the United States reporting people holding back from buying diesel cars and "#dieselgate" trending on Twitter.
Volkswagen said on Tuesday it was setting aside 6.5 billion euros ($7.3 billion) to help cover the costs of the crisis.
But some analysts are sceptical that will be enough, with the company disclosing that 11 million of its cars were fitted with Type EA 189 engines that had shown a "noticeable deviation" in emission levels between testing and road use.
Commerzbank analyst Sascha Gommel said if these cars had to be recalled and modified, the cost of that alone could top 6 billion euros.
And the company could still face the potential cost of regulatory fines, lawsuits, criminal investigations and a possible hit to sales from a damaged reputation.
The U.S. Justice Department has launched a criminal probe, a source familiar with the matter said.
New York and other state attorneys general are forming a group to investigate too, New York Attorney General Eric Schneiderman said, while other countries in Europe and Asia say they will investigate Volkswagens and other vehicles as well.
Richard Leedham, a partner at London law firm Mishcon de Reya, said there was little prospect of Volkswagen clawing back costs from its insurers.
"Given their apparent internal knowledge, it seems unlikely that VW will be able to claim any insurance for product recall or for product liability cover, so they won't be able to pass on their losses," he said.
Investor's nightmare
Environmentalists have long complained that carmakers game the testing regime to exaggerate the fuel-efficiency and emissions readings of their vehicles.
European politicians on Wednesday voted to speed up rules to tighten compliance with pollution limits on cars.
European car association ACEA said that so far there was "no evidence that this is an industry-wide issue".
But Societe Generale analysts said that while the uncertainty prevailed, the whole autos sector was likely to be "dead money" for a while.
As for Volkswagen, Deutsche Bank called the scandal an "investor's nightmare" and cut its recommendation to "hold" from "buy", predicting rising costs for making diesel cars would wipe out the company's cost-cutting programme.
A precipitous two-day collapse in the company's share price appeared to have ended on Wednesday morning, at least for now. At 1215 GMT, Volkswagen shares were up 3.9 percent at 110.15 euros, after earlier touching a four year low of 95.51 euros.
Volkswagen was challenged by authorities as far back as 2014 over tests showing emissions exceeded California state and U.S. federal limits, but held off admitting wrongdoing until regulators threatened to withhold certification for its 2016 diesel models.
Winterkorn is likely to come under pressure from the board over the time it took the company to respond to criticism.
In April this year, the CEO saw off a challenge to his leadership when the board ousted long-time chairman Ferdinand Piech.
There was no sign emissions testing was part of Piech's criticism of Winterkorn, but insiders say Piech was unhappy with Volkswagen's underperformance in the United States, where sales of VW-brand cars fell 10 percent last year to less than half of their 2018 target of 800,000 deliveries.
Volkswagen is strong in the small U.S. diesel sector and has spent millions on television ads promoting its "clean" diesel cars, central to its strategy to finally improve performance there after years of disappointment.
Winterkorn has long been accused by critics of an excessively centralised and hands-on management style, which they say has led to production delays and hindered the company's ability to adapt to local market needs.
In 2012, the launch of the Lamborghini brand's Aventador was delayed by about six months after the CEO requested a different dashboard following a test drive, one company source said.
(Additional reporting by European, American and Asian bureaus)