Karnataka government officials would hold preliminary discussions with two-wheeler major TVS on Saturday on possible setting up of an engine manufacturing unit in the State, the Major and Medium Industries Minister Murugesh R Nirani said.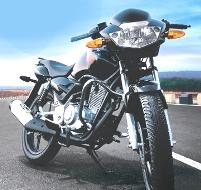 "Preliminary discussions will be held on March 13 on location, investment and things of that nature", Nirani said on the sidelines of Bangalore International Automotive Expo 2010 which commenced on Thursday.
He said discussions would also be held this month with Mahindra and Mahindra, which has been invited by the State to establish a tractor manufacturing or any other automobile unit in Belgaum.
Inaugurating the five-day expo, Karnataka Chief Minister BS Yeddyurappa said the State is contributing $10 billion to the country's automoible industry annually.
Automotive brands, designs, products and technology are at display in this second edition of the show on the palace grounds.
President of the Karnataka State Pradesh Congress Committee, R V Deshpande, a former Major and Medium Industries Minister, who spoke at the inaugural ceremony, urged the State Governement to lower taxes on motor vehicles which are currently among the highest in the country.
The show organisers said the event seeks to bring together auto, component and accessories manufacturers, overseas equipment manufacturers, services, garage and testing equipment and automotive aftermarket under one roof.