This Rs 4.5 crore (on-road, Mumbai) performance machine is an all-new Prancing Horse that is visually striking, high on tech and being a Ferrari, offers thrilling performance that will excite your senses.
Faisal Khan reports.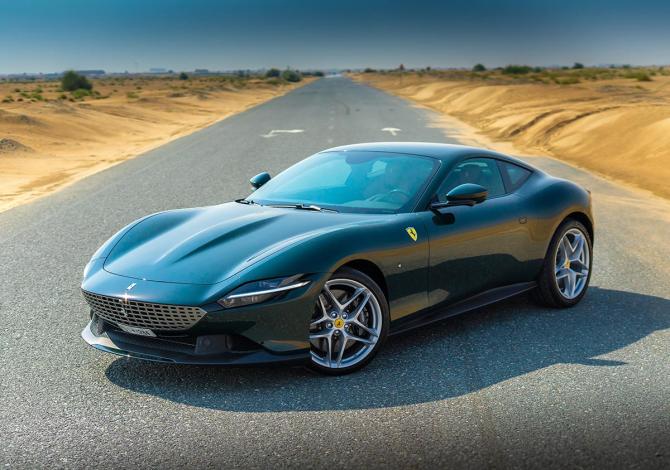 'La Nuova Dolce Vita' is the tagline of Ferrari's Roma which translates into 'The New Good Life'.
The Roma is a Ferrari GT (Grand Touring) sports car and is also part of their entry-level lineup but it is everything but entry-level.
This Rs 4.5 crore (on-road, Mumbai) performance machine is an all-new Prancing Horse that is visually striking, high on tech and being a Ferrari, offers thrilling performance that will excite your senses.
In terms of design, the Roma is a departure from all other Ferraris as the design is fresh and new, having already won multiple awards for the styling as it's quite striking, more so in this Verde British green colour (there are 25 standard colours across 4 different categories with this colour being 'historical').
The Roma sports a body-coloured grille which is angled and not flat, making it look very sporty.
Two logos are placed at the front, one on the grille and the other right on top.
The front splitter is aggressive - sharp and pointy with air intakes right above.
However, once you come to the side, you realise the GT profile, the Roma is wide, sits low (ground clearance is 120 mm) and has a long hood.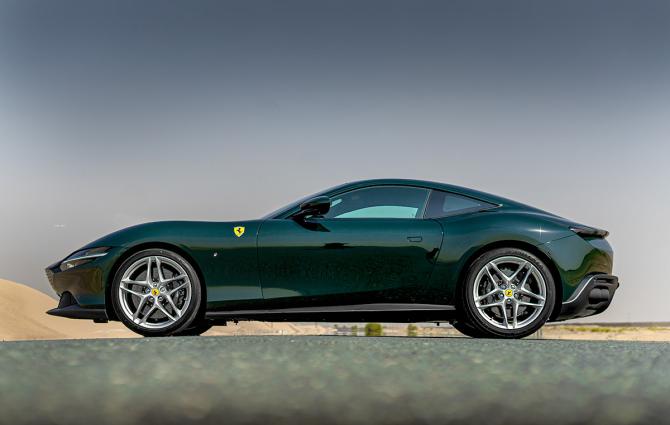 The silver alloy wheels contrast well with the body colour but there are a choice of wheel options and brake calliper colours.
Quad exhausts at the rear look purposeful while the rear lights are a departure from the round lights which are a Ferrari signature.
It does have a rear spoiler which is right at the bottom of the rear windscreen and activates when it's needed - subtle.
Open the flush door handles and you are greeted by a tech fest, the Roma is a touch overload with capacitive controls, it all feels futuristic inside.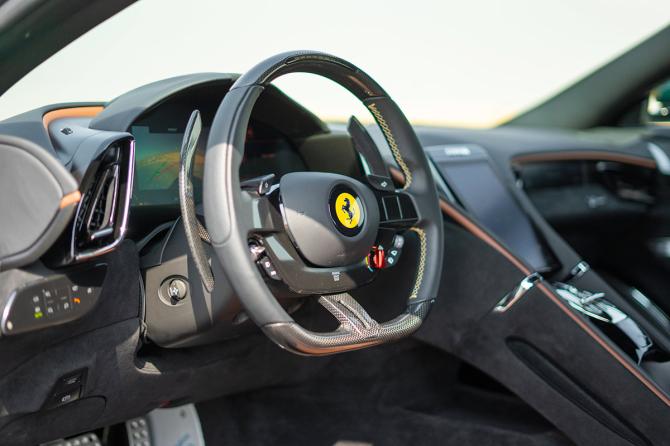 You can customise the colour of the dashboard, piping across the cabin, and even the seats!
The quality is outstanding, there is good amount of Alcantara used in good measure and while this is a 2+2, the rear seats aren't easy to get into and there isn't space for an adult and it is best suited for children or luggage.
The front seats are very comfy and the boot is decent enough for a couple of small bags for that weekend gateway.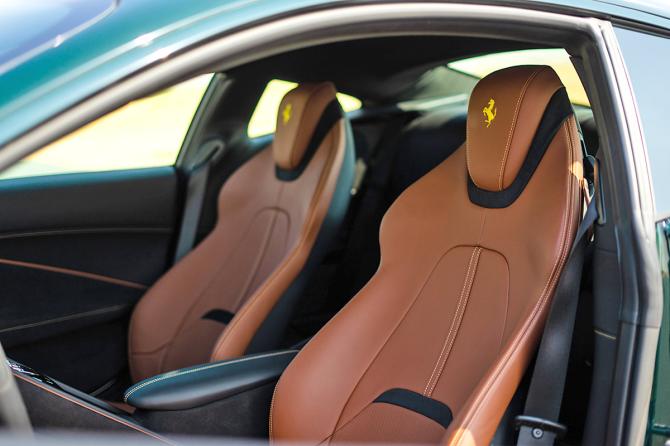 The instrument cluster is fully digital and can be customised to a great extent using the steering mounted controls which aren't the slickest to use.
It's a 16-inch curved display which has super crisp graphics.
The centre touchscreen infotainment system is a vertical 8.4-inch unit which is easy to use but is a fingerprint magnet.
There is a third screen, on the dashboard, right ahead of the co-passenger and it's touch operated with a ton of data, including a menu for the tachometer, speedometer and G force meter, the passenger isn't just riding shotgun but also being the co-pilot now!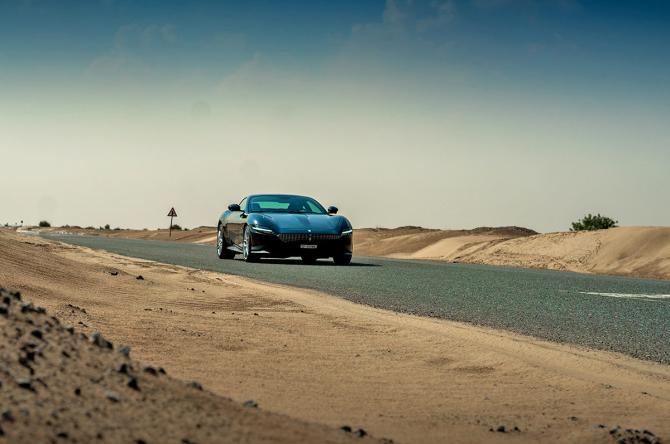 A Ferrari is all about performance but this being a GT, isn't all about raw performance, it's more about accessible performance which won't scare you silly.
But the Roma does have a slew of driving modes and there is also a Race mode (among Wet, Comfort, Sport and ESC off).
Powering the Roma is a 3.9-litre V8 engine that belts out 620 HP of power and 760 Nm of torque, assisted by twin turbochargers. But Ferrari has tuned the engine so well that there is no lag, power delivery being linear with a frantic top-end - just how it should be - the more you rev it, the harder it pulls, all the way to its almost 8000 RPM redline.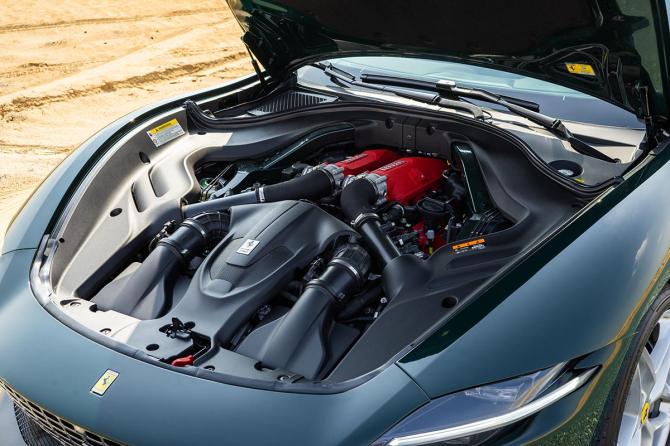 Naught to the ton (0-100 km/hr) is dispatched in 3.4 seconds while 0-200 km/hr takes 9.3 seconds, the top speed being an impressive 320 km/hr!
The Roma sounds every bit exciting, the engine roars to life on start-up and there are pops and cracks which accompany on throttle lift off.
Since this is a GT, power delivery won't scare you silly and you can drive it sedately to gather speed at a relaxed pace but should you feel the need, the need for speed, the Roma naturally delivers.
The 8-speed dual-clutch gearbox is super fast with shifts and fuel efficiency is anything between 3 to 6 km/l (depending on your driving style), with an 80-litre fuel tank.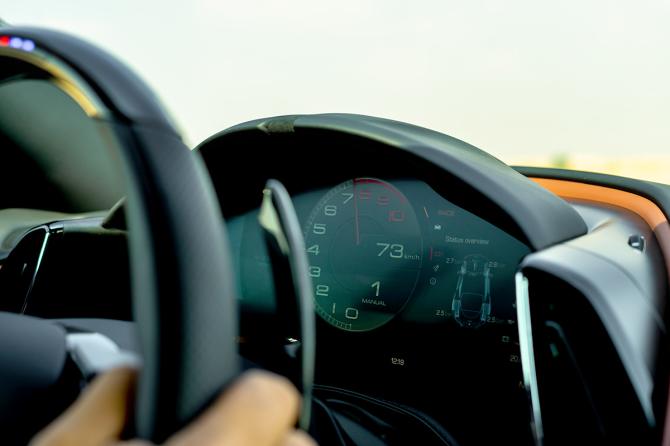 You toggle through the drive modes on the new Ferrari steering wheel which has the Manettino.
The 5-drive modes alter the engine map, gearshift speed, steering feel, traction control level and also the dampers.
With so much power being challenged to the rear wheels, the Roma breaks traction in a jiffy but can be easily controlled, unless you turn off the electronic nannies.
Ride is very good by sports car standards and in spite of the low ground clearance, it won't touch anywhere but you do have to be careful over big bumps and speed-breakers.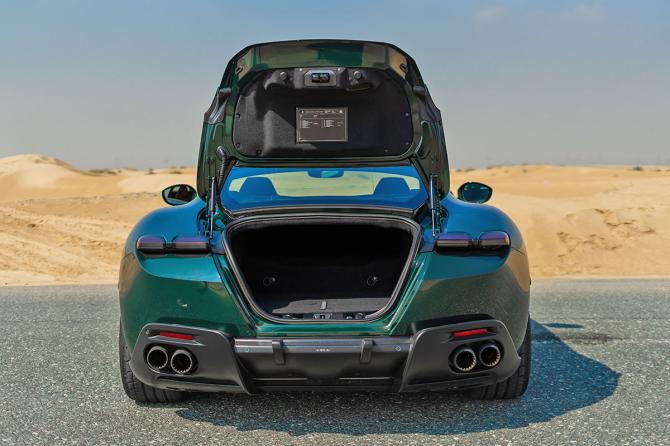 Handling is good but the Roma isn't pinpoint sharp, it does grip through corners extremely well and the brakes are stupendous in terms of stopping power.
The Ferrari Roma is a fun sports car which is quite practical too. It's fast but not furious but that's part of the charm of this car as it's meant to gobble up the miles in a fast and comfortable way.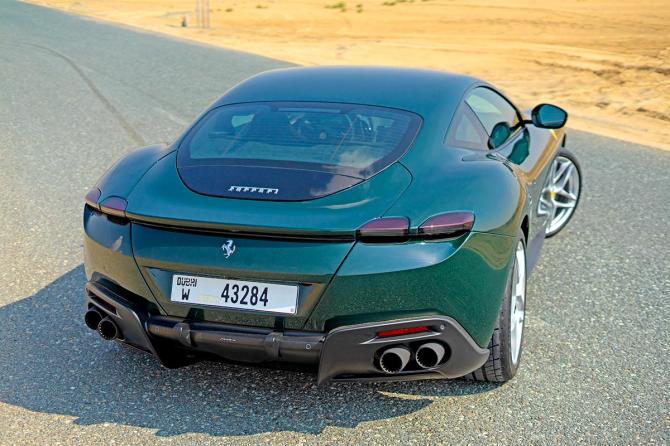 The Roma is every bit a Ferrari but with a lot of tech infused in the cabin and the usability that makes it very easy to live with.
It rivals the likes of the Mercedes AMG GT, Porsche 911, Audi R8 and the Aston Martin Vantage.
Photographs: Kind courtesy, MotorBeam
Powered by