It takes a lot to establish a brand in the market and the most important factor for that is having the right product at the right price. One such car that stood for this value was the Ford Figo, when launched in 2010. Customers saw good value for money in the product and it when on to become a success, offering quiet a few features and overall package, thereby filling a gap in the hatchback segment in India.

In 2015, Ford has launched its all-new Figo to take the brand several notches further. We had a chance to experience this new car on a drive from Delhi to Agra on the phenomenal Yamuna Expressway and explore what makes this car special.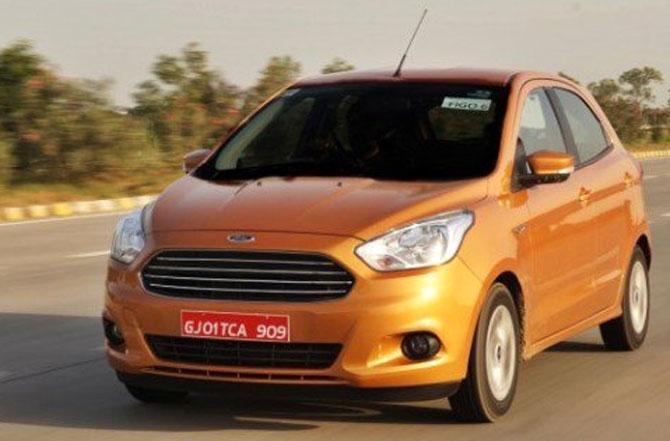 The 2015 Ford Figo is a completely new product and does not share anything with its earlier model. It is based on the Kinetic design 2.0 and has a similar theme like other new generation cars from Ford. Ford has given a lot of emphasis on passenger safety, hence, it has a robust passenger cage made from high strength steel and offers driver-side airbag as standard, across all variants. In fact, the Figo is the only car to offer upto six airbags in its top-line variant, thus, making safety a clear differentiator from its competitors.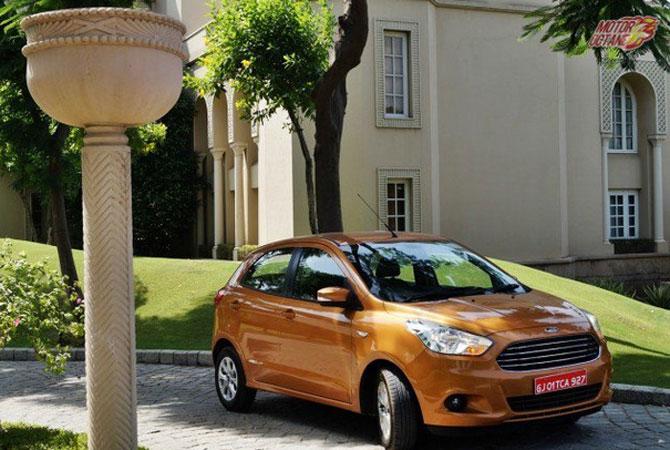 The car looks attractive without doubt and is easily one of the best looking hatchbacks in the country. The large dominating trapezoidal front grille (reminiscent of Aston Martin) with chrome highlights and elongated headlamps look good adding some premium feel to it. Diagonally from the front you may even mistake it for a Fiat Punto Evo, as the headlamps are strikingly similar. The side looks well balanced with a slightly tapered windowline.
The high window sill at the rear gives it a tall stance. It comes with 14-inch alloy wheels. ORVMs have turn indicators on them. The rear portion is pretty neat and simple and integrates well with the overall look. The boot looks sporty and has a spoiler that adds a subtle flair.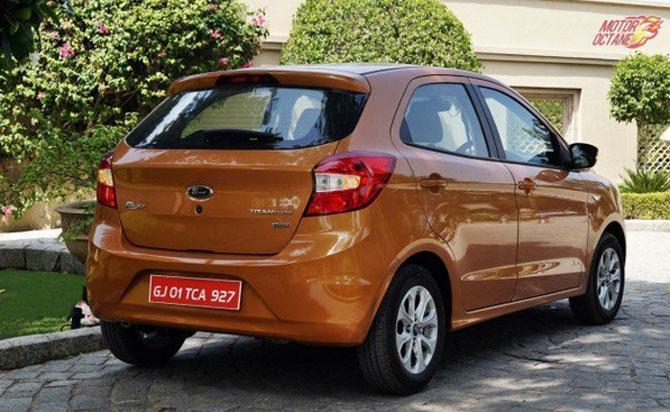 The interior is identical to Figo Aspire, however, instead of beige it comes in full black, with silver accents, to keep up with the sporty character of the car. The steering is a delight to hold and has audio and bluetooth controls on it. For a change the stalk controls are unlike European cars and have the wiper controls on the left and lamps control on the right.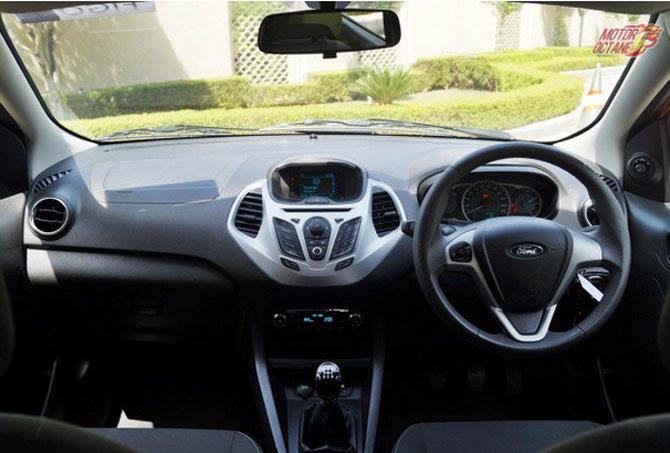 Ford has the SYNC with Ford AppLink that takes the connectivity game to higher level, with voice commands, which help you control your phone, entertainment and apps. There are power adjustable mirrors, auto locking doors and the electric boot release and keyless entry. There are quite a few cubby holes to hold glasses, cans etc.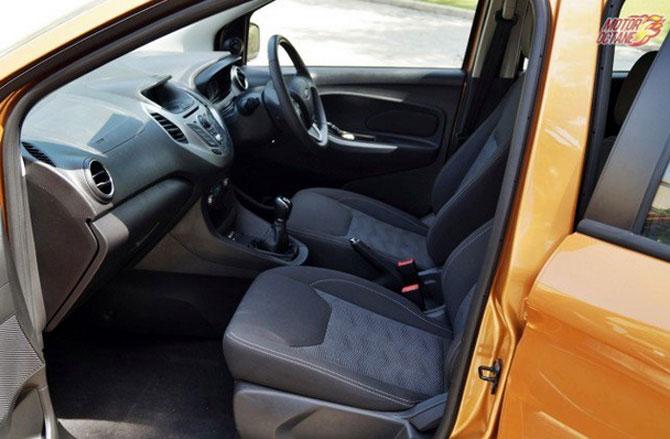 Space is adequate in the front and back, however, three adults at the back may find it little uncomfortable. Legroom is decent. The new Figo has 257 litres of boot space, which is lesser than the earlier Figo, but good enough to accomodate medium luggage. If you want a bigger boot, the Figo Aspire is there.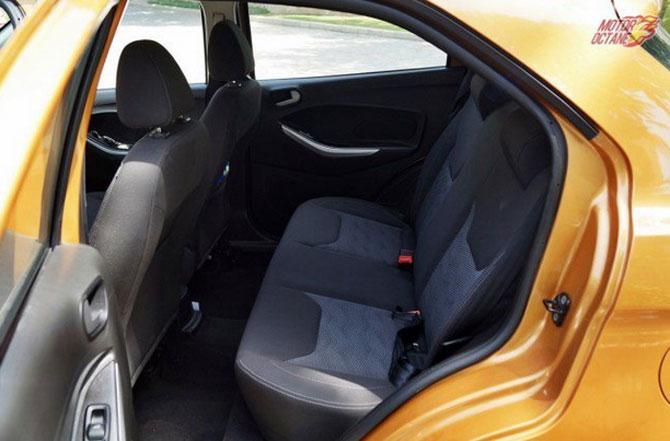 Like its sedan sibling, the Figo also comes with three engine options. A 1.2-litre petrol with 87bhp of power and 112Nm torque, mated to a five-speed manual transmission. The second engine is a 1.5-litre petrol that comes only with a six-speed DCT (dual clutch transmission). A dual cluch mechanism is a advanced automatic transmission and Ford was the first in India to introduce this technology with the Fiesta.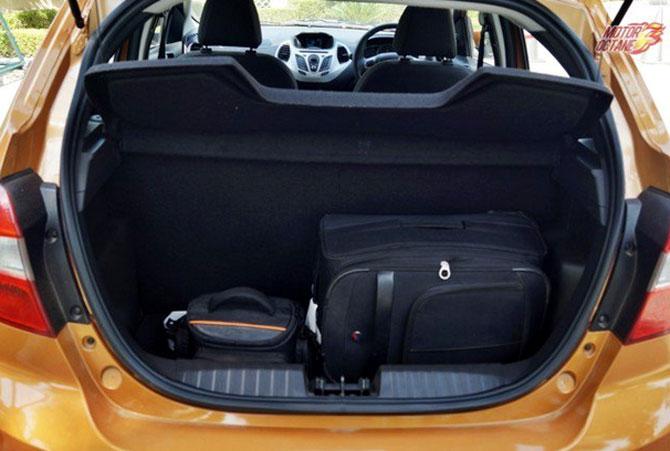 And finally, the third engine is a 1.5-litre diesel that produces 98bhp of power and 215Nm of torque. This engine offers good performance and while there is a little turbo lag, it manages well with a strong mid-range. Its fits in well for a city as well as highway drive.
The diesel offers optimum performance with good fuel efficiency and is very usable too. The diesel is certainly the more powerful option and the good bit is there isn't much lag that we generally notice in diesel engines, this makes it easy to drive in the city or even on the highway.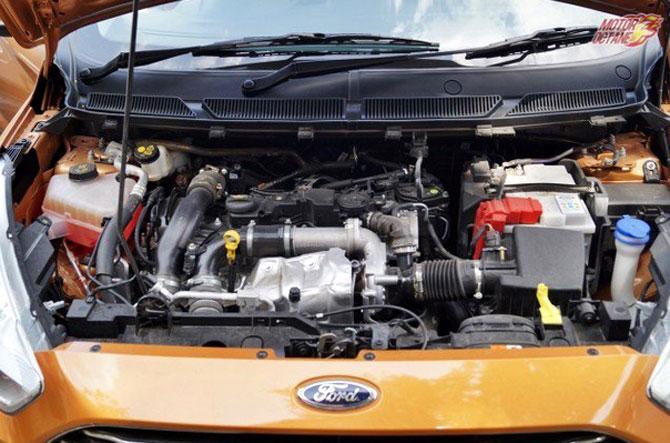 Ford Figo is the most powerful diesel hatchback in its segment and there is sufficient power to drive it in the city or even the highways. Push the throttle and you can overtake with ease. It didn't have that sudden rush of power when the turbo kicks in, it is more of linear increase improving the drivability.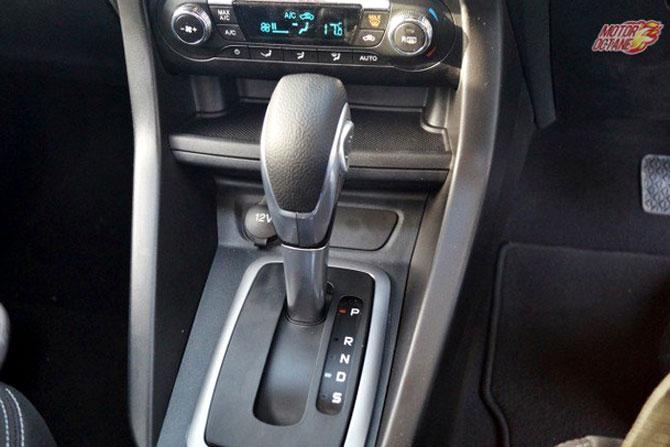 The suspension set-up is well balanced and offers a good riding experience by making the occupants comfortable. The Ford Figo is based on the new B572 platform and this has well tuned for Indian road conditions. Ford have increased the ground clearance of this car to 174mm.
Handling is one of the best you will find and the car rides very well over potholes, though you can feel a few. If you have driven a Ford earlier, you will find a typicality in handling, which is precise. The steering is light for city condition and weighs up well at higher speeds. The Figo remains planted under hard cornering and the brakes compliment its overall handling. High speed stability is also impressive.

Spare Parts cost: Ford has ensured that the spare parts are highly affordable as the company has increased child parts. This way one can afford to buy a spare part of an assembly, rather than an entire assembly. Increase in localisation by the company has helped them to get such a benefit.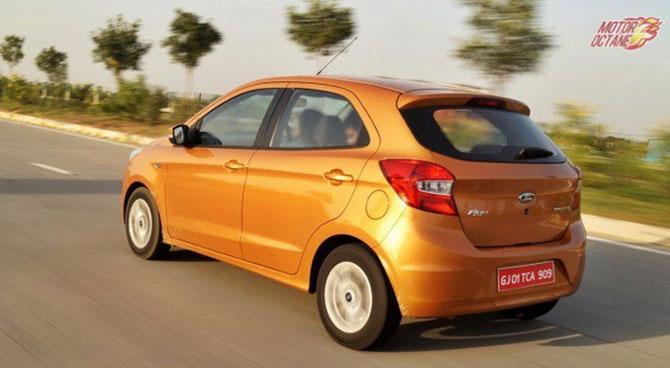 The Figo is mainly targeted towards the youth who look for a sporty car with good features. It comes across as a good value for money package. Ford has again delivered a very competitive product, which we feel deserves to sell in high numbers. The introductory price makes it the best-in-class value.
Powered by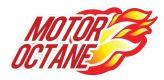 MotorOctane.com is your one stop shop for news, views and reviews from the automotive industry. It is meant for car and bike enthusiasts- whether they are considering a new purchase or just wanting to stay abreast of the industry.