Maruti Suzuki India is understood to have decided on resuming partial production at its violence-hit Manesar plant by next Tuesday.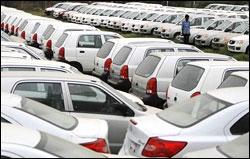 "Almost all the assessments have been completed and partial resumption of the Manesar plant is likely next week. Monday being a holiday, it is likely that work will resume on Tuesday," a source said.
While the labour issue remains a factor, the initial work is mostly expected to be in the automated divisions of the plant, the source added.
When contacted, a company spokesperson declined to comment.
The source also said the company will work along with the district administration on the security of the plant in future to avoid a repeat of the July 18 incident.
On Monday, Maruti Suzuki India chief operating officer (administration) S Y Siddiqui had said the company would take a final call on Friday.
"We may be able to complete the total assessment of the situation at the Manesar plant by Friday and expect a clear picture to emerge regarding the reopening of the plant by then," he had said.
The company had declared a lockout at the Manesar plant on July 21 following violence and arson in which one senior executive was killed and 100 others were injured.
MSI had said the safety and well-being of its employees were paramount.
The Haryana government had announced formation of a special investigation team (SIT) headed by Assistant Commissioner of Police Ravinder Tomar with six inspectors to probe the incident.
On August 1, the police had arrested 10 office bearers of the Maruti Suzuki Workers' Union, including its President Ram Meher and General Secretary Sarabjit Singh, taking the total number of workers arrested to 114 in relation to the incident.
Photograph: Amit Dave/Reuters