Eicher Motors is a leader in the premium motorcycle segment, where it holds market share of over 85 per cent under the Royal Enfield (RE) brand.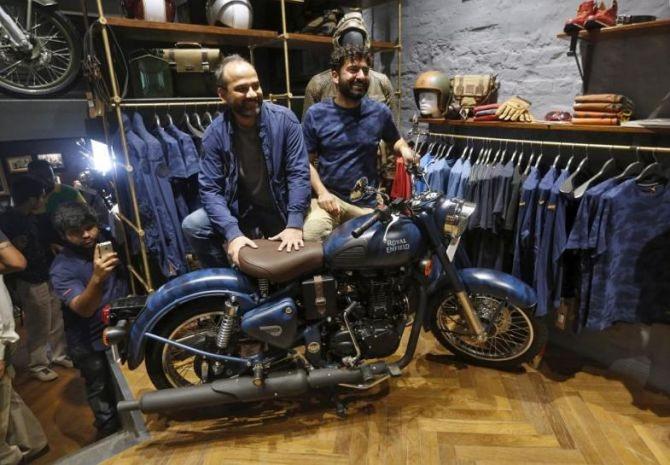 The company's joint venture VE Commercial Vehicles (VECV) with Volvo, where it holds 54.5 per cent stake, gives it a strong footing in commercial vehicles (CVs).
The company had good results in FY23 and it has a strong balance sheet and good operating margins.
The consolidated Q4 FY23 revenues were at Rs 3,804 crore, up 2.2 per cent quarter-on-quarter (QoQ) and consolidated profit after tax (PAT) was at Rs 906 crore, up 22.2 per cent QoQ.
Average selling price of RE bikes was up 7.7 per cent QoQ at Rs 1.72 lakh per unit.
Sales volumes were at 2.19 lakh units, down 1.3 per cent QoQ.
EBITDA was at Rs 934 crore with margins at 24.5 per cent, up 150 bps QoQ.
Free cash to firm was Rs 2,170 crore for FY23 vs Rs 890 crore in FY22, led by strong operating cash flow, which stood at Rs 2,850 crore vs Rs 1,530 crore in FY22 and capex of Rs 670 crore vs Rs 640 crore in FY22.
In the joint venture (JV), VECV, the volume and realisations growth was 31 per cent and 10 per cent year-on-year (YoY), respectively, which led to 42 per cent YoY revenue growth to Rs 6,200 crore.
The EBITDA margin expanded 310 bps YoY to 9.9 per cent. PAT grew 220 per cent YoY to Rs 320 crore.
Overall market share in the CV space was at 17.1 per cent for FY23.
The share of profit from the JV was at Rs 173.4 crore in Q4FY23.
The dominant position in the premium bike segment is being reinforced by a sequence of new launches and RE volumes could grow at above 7 per cent CAGR on a high base for the next two or three fiscals.
The company is entering the EV (electric vehicle) bike space with a capex of Rs 1,000 crore outlay for product development and manufacturing setup.
It also has a stake in Spanish EV bike maker, Stark Mobility, which will aid in R&D.
The CV joint venture should see faster growth at around 11 per cent CAGR and Volvo has a strong presence in EV, fuel cells, CNG, etc.
RE has built a great brand globally and it can build upon already impressive export performance.
Management guidance indicates better price per unit was due to higher exports and price hike taken in Q3FY23 reflecting with lag. Commodity price declines helped with margins, but minimal margin expansion is expected going forward.
The market share in the greater than 125 cc segment is around 33.5 per cent with overall market share of motorcycles at 7.2 per cent. One concern is that the expected launch of Bajaj Auto's line of Triumph bikes could challenge the premium segment dominance of RE.
Market share in America, APAC and EMEA remained at 8 per cent, 9 per cent and 9 per cent respectively, in the mid-weight segment.
Export volumes crossed 1 lakh units vs 21,000 in FY19 displaying strong growth.
The non-automotive segment had revenues of Rs 2,041 crore in FY23 vs Rs 1,104 crore in FY19.
Capex on EV manufacturing and development of ICE and EV platforms would amount to Rs 1,000 crore with a focus on product development.
At Rs 3,616, the stock is up marginally in the last month following a 30 per cent rally from the end of March till early June.
The stock is not far from it's all-time high of Rs 3,889.65, and it has consensus analyst support.
According to Bloomberg, 8 of the 12 analysts polled in June have 'buy/add/outperform/attractive' ratings, while four are neutral (no sell ratings).
Their average target price is Rs 3,900.