Maruti Suzuki India (MSIL) will issue equity shares on a preferential basis to parent Suzuki Motor Corporation (SMC) to acquire 100 per cent stake in the latter's Gujarat plant.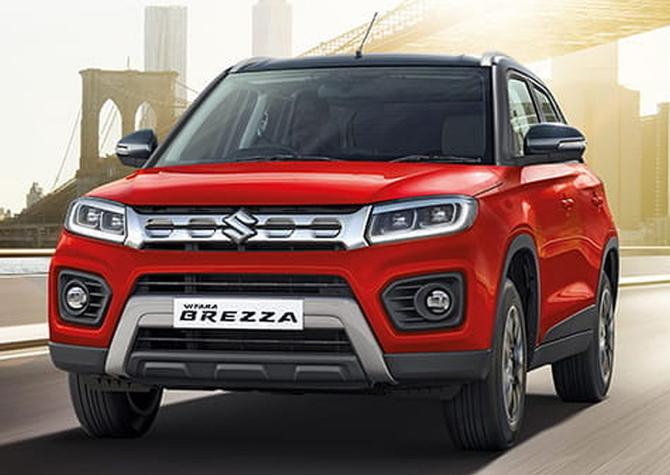 This deal is expected to increase the share base of MSIL by about 4 per cent. And consequently, it will raise SMC's shareholding in Maruti by around 1.8 percentage point.
"Whether it is in terms of PAT (profit after tax) or earnings per share (EPS) or dividend per share (DPS) of MSIL, the share-swap option will give shareholders a better deal than any other option such as cash payment," MSIL chairman RC Bhargava told reporters during a press conference.
On July 31, MSIL had announced that it would acquire 100 per cent share in Suzuki Motor Gujarat Private Limited, which owns the plant, from SMC.
This will also enhance its production efficiency.
The Gujarat plant has been manufacturing cars for MSIL under a contract manufacturing agreement (CMA) signed between SMC and MSIL.
"We will of course go and get minority shareholders' approval for all the three transactions — termination of the CMA, the decision to purchase (Gujarat plant's) shares from SMC, and that this purchase should be done by preferential issue of equity in favour of SMC," Bhargava noted.
According to MSIL's estimates, the EPS and DPS till 2030-31 (FY31) for its shareholders would be Rs 657 and Rs 263, respectively, under the share swap method.
This is mainly due to interest income earned on higher cash reserves.
If the Gujarat plant is purchased using MSIL's cash, the EPS and DPS would be Rs 637 and Rs 255, respectively, it stated.
MSIL has a cash balance of about Rs 46,000 crore, and so, certain proxy advisory firms were expecting a cash deal instead of a share swap deal.
According to the CMA, the Gujarat plant can be purchased by MSIL at the net book value of last financial year. At the end of FY23, the plant's book value stood at Rs 12,755 crore.
MSIL's chief financial officer (CFO) Ajay Seth said: "We have considered the share price as on June 30, 2023, for estimation of the number of MSIL shares to be given to SMC for this transaction.
"Accordingly, the total share base of the company will increase by over 4 per cent and SMC's shareholding in Maruti Suzuki will go up by around 1.8 per cent."
He said that according to the current calculations, SMC's shareholding in MSIL will go up from 56.48 per cent to 58.28 per cent once the deal is done.
Bhargava said that these are not the final figures for share swap.
It would be decided on the basis of net book value of the Gujarat plant and MSIL's share price on the date when the board decides to call the extraordinary general meeting (EGM).
The board is expected to hold its meeting by October to get minority shareholders' approval for the deal.
The depreciation as well as capital expenditure — for the period between April 1 and the date when the board meets for the EGM — will be subtracted.
It will then be added to the aforementioned Rs 12,755 crore, and this will give the net book value of the Gujarat plant.
Bhargava justified MSIL's decision to not use its cash reserves to buy the Gujarat plant.
"We have invested a huge amount of money in building sales and service infrastructure, research and development facilities, among others.
"If we could do all of this, and if we could tide over the crisis that came in 2008 during recession, in 2011 due to diesel and petrol issue, in COVID-19 pandemic, etc, without any problem, this was because we had cash.
"If we could do all of this, and tide over the crisis that came during the 2008 recession, in 2011 due to the diesel and petrol issue and during Covid without any problem, this was because we had cash.
"Many companies were facing problems during this period because they did not have cash," he added.
A lot of companies have not grown in a stable manner because they grew on the basis of debt, he said.
"Indian companies have developed this practice, on a pretty wide scale, of siphoning money out of the companies.
"Very few companies have substantial cash reserves and that is one of the reasons why they don't invest in technology development, engineering development or modernisation.
"Why have all your SMEs (small and medium enterprises) not grown? It's because none of them have cash.
"We have cash because we follow very frugal manufacturing practices," he added.
Bhargava said MSIL has realised something between Rs 5,000 and Rs 6,000 crore of extra profit because it didn't invest in the Gujarat plant and allowed SMC to do so.
This allowed MSIL to grow cash reserves.