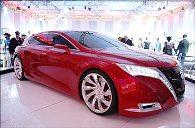 The country's largest carmaker, Maruti Suzuki, on Tuesday said it expects sales to grow around 10 per cent in 2010.
The company also said that it will bring premium sedans based on a concept Kizashi by the 2010-end into India.
"In 2009, our sales grew by about 22 per cent compared with 2008's. But since 2008 was a bad year if we look back and compare with the growth two years ago, we have grown by just about 19 per cent," Maruti Suzuki India Managing Director Shinzo Nakanishi said.
"So, on an annualised basis we have grown about 9.5-10 per cent in the last two years. We expect the same rate of growth in the calendar year 2010," he added. The company unveiled a small multi-purpose concept vehicle (MPV) 'rIII' as it looks to create a new segment.
There is a room for creating a new segment in the small MPV and that is what we aim to do, he said. The concept vehicle has been developed by Maruti Suzuki at its research and development centre.
Nakanishi also said towards the end of this year the company would be launching the Kizashi sedans in India. The sedans have already been launched in Japan.
The company is still deciding whether to import the sedans or assemble them in India. Maruti in 2009-10 so far sold a total of 7.31 lakh units, while in 2008-09 they had sold about 7.92 lakh units.
Asked about cooperation with Volkswagen in India following the German company's stake purchase in Suzuki Motor Corp he said: "There may be some collaboration, but right now there is no special projection."
With many global companies entering the small car segment, Nakanishi said the competition is going to be tough but Maruti Suzuki is hopeful to maintain its over 50 per cent market share in the Indian passenger car market, which was at 1.3 million units at the end of 2008-09.
The company expects to cross the one million sales mark by the end of 2009-10 and is investing Rs 130 crore (Rs 1.3 billion) in enhancing the capacity of Gurgaon plant by about 90,000 units.
The Gurgaon plant has the capacity to produce 6 lakh units and other plant at Manesar has a capacity of 3 lakh units. Maruti Suzuki India reported a 50.6 per cent jump in sales in December last year at 84,804 units. The carmaker had sold 56,293 units in December 2008.
Image: Suzuki Kizashi.
Photographs: Courtesy, Maruti Suzuki.