Maruti Suzuki's contribution to the sales revenue of its Japanese parent, Suzuki Motor Corporation (SMC), has touched the highest-ever figure during April-December of FY23.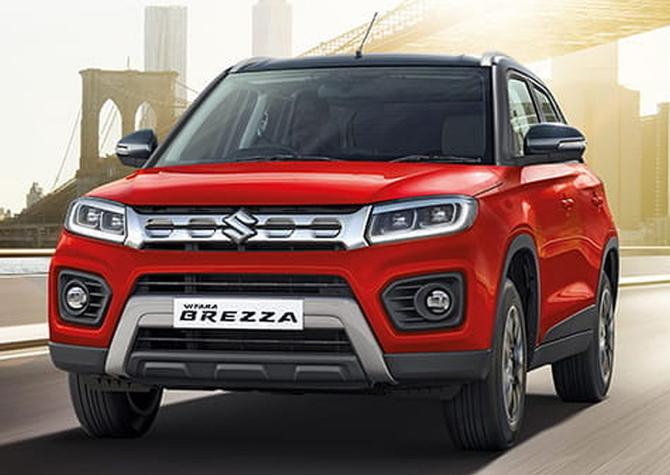 According to SMC's results declared on Tuesday, Maruti's share in its global revenues jumped from 33.42 per cent in April-December of FY22 to 40.93 per cent in the corresponding period of FY23.
The previous peak was observed in FY18 when Maruti's share stood at 37.14 per cent (see chart).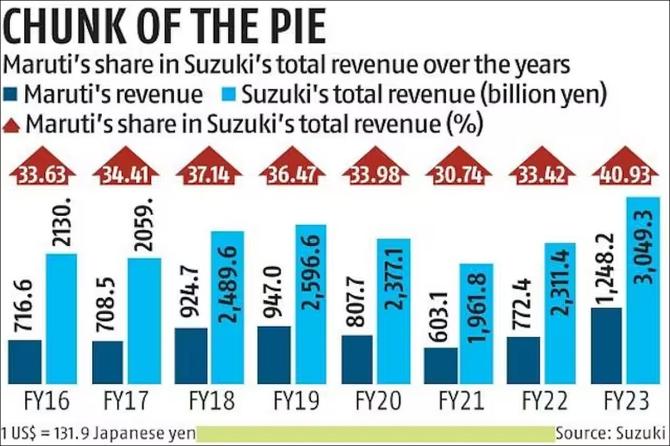 "Sales in India increased, compared to the same period last year, which was affected by limited availability of dealers.
"It was due to lockdown and production decline owing to shortage of semiconductors," SMC stated in its results.
The utility vehicle (UV) segment in India grew by 21.5 per cent year-on-year (YoY) due to the introduction of new SUVs Brezza and Grand Vitara, SMC said.
"We are focusing on the penetration of CNG (compressed natural gas) vehicles in India," it noted.
Maruti's share in the Indian CNG car market was at 73 per cent during April-December of FY22.SMC, on Tuesday, did not change its previously-stated growth outlook for India.
While declaring Q2 results in November last year, SMC had said that automobile unit sales in India are expected to grow by 21 per cent in FY23 as compared to FY22.
Among all the major markets, India has been the brightest spot for SMC in terms of growth.
SMC's global automobile unit sales jumped 13.4 per cent to 2.21 million units in April-December (YoY) of FY23.
On the other hand, the company's automobile unit sales in India surged by 25.9 per cent during the same period of FY23 to 1.2 million units.
SMC's automobile sales increased 10.2 per cent in its home market Japan.
However, it decreased by 35 per cent in Europe during April-December.
Automobile sales in Asian countries such as Pakistan, Indonesia and Thailand also fell.
Besides rising unit sales in India, SMC is also getting the benefit of a stronger rupee.
According to SMC, the average value of the Indian rupee was 1.72 yen in April-December of FY23.
This compares to 1.51 yen in the corresponding period a year ago, due to which it earned an additional 22.6 billion yen.
SMC said its net profit jumped by 35.1 per cent to 183.4 billion yen in April-December (YoY).
It was mainly owing to an increase in sales, which has offset the impact of higher raw material prices.
SMC holds about 56 per cent stake in Maruti Suzuki India.
Maruti will launch its first electric vehicle (EV) in the next financial year (FY24).
It will roll out six EVs in the country by FY30, SMC had said last month.
Moreover, EVs, hybrids and internal combustion engine (ICE) vehicles will constitute 15 per cent, 25 per cent and 60 per cent, respectively, of Maruti's total production by FY30, it added.