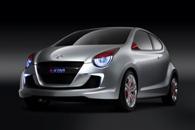 The country's largest carmaker Maruti Suzuki India on Wednesday said its flagship export model, A-Star, has crossed one lakh-mark of overseas shipments in less than a year of selling the car in the global markets.
The company said the milestone was crossed with a batch of shipment leaving the Mundra Port today. It further added that A-Star's green label has been a success in Europe. MSI had launched A-Star in November last year in India and started exporting it since January this year.
A-Star is currently exported to 69 countries and is sold as Suzuki Alto in Europe, South Africa, Australia and New Zealand.
Europe alone accounted for 93,562 units of the export, MSI said adding, it is sold in 19 European countries, including UK, Germany, Netherlands, Spain, Italy and France. As part of expansion in export markets, the company would target the east European countries in the second phase.
Besides Europe, some of the other major markets for A-star, which is produced only in the company's Manesar facility, are Chile, Angola, Saudi Arabia, Morocco, Algeria and UAE, where it is sold as Suzuki Celerio.
Japanese car major Nissan also sells A-Star in the European market under a contract manufacturing agreement with MSI's parent Suzuki. Nissan sells the model as Pixo.
During April-November period this fiscal, the company has exported a total of 91,731 units, whereas it was 70,023 units during the entire last fiscal year, Maruti Suzuki India said.