High absenteeism among workers, shortages of critical parts, and temporary closures of plants by automobile manufacturers have thrown a spanner in the works for the Rs 3.2-trillion sector.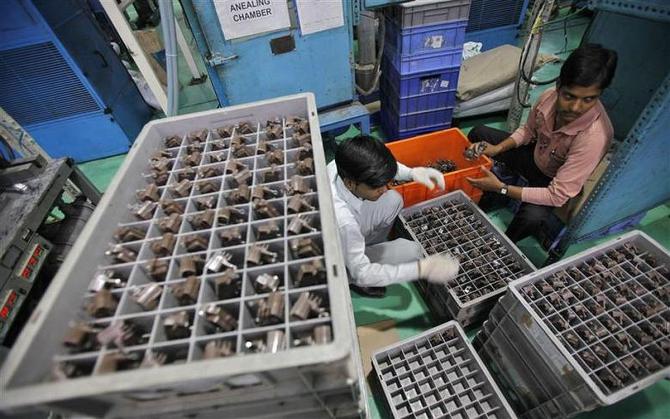 Auto component makers in India are bracing for a tough time.
High absenteeism among workers owing to Covid-19, shortages of critical parts, and temporary closures of plants by automobile manufacturers have thrown a spanner in the works for the Rs 3.2-trillion sector, which derives 60 per cent of its revenues from automobile original equipment manufacturers (OEMs), with the balance split equally between replacement demand and exports.
Car market leader Maruti Suzuki India on Saturday said it was extending the maintenance shutdown, which was from May 1 to 9, till May 16, "keeping in view the current pandemic situation". Some activities will continue in the plants.
Suzuki Motor Gujarat has taken the same decision, it said in a stock exchange filing.
Maruti Suzuki and a host of other automobile manufacturers, including Mahindra & Mahindra, Toyota Kirloskar, Honda Motorcycle and Scooter India, Ford India, and BMW India, have taken a call either to advance the shutdown or extend it due to the pandemic.
Auto component makers have their production plans closely tied to manufacturers and will be adversely affected by these partial closures, said Deepak Jain, president, Auto Component Manufacturers Association.
"It's not an industry that shuts its plant. But running production under current circumstances is becoming difficult," said Jain, pointing out that OEMs had no choice but to "calibrate their plans to this reality."
"No one has any visibility on what lies ahead and we are taking each day as it unfolds. The safety of the associates and saving lives are the top-most priorities now," he said.
Others echo similar sentiments.
"The condition of supplies and workers — everything — is affected. Our capability to produce is also constrained," said F R Singhvi, joint managing director at Bengaluru-based Sansera Engineering, which makes integrated, complex, and quality precision components.
To ride out the disruptive phase, Sansera is sharpening its focus on exports, which account for 33 per cent of the company's revenues.
CRISIL Research in a March 26 report had said the uptick in OEM demand would rub off on the automotive components sector, which could see revenue growth of 21-23 per cent in FY22 against the decline of 13 per cent and 8 per cent in FY20 and FY21, respectively.
Replacement demand, which was impacted due to lockdowns and restricted movements of people and freight, will recover gradually.
Besides, exports (20 per cent of revenues) will be aided by steady demand in the US and staggered recovery in the European Union — the two geographies that account for 55 per cent of India's automotive component exports.
Signs of recovery had been visible here since the third quarter of FY21.
However, given that the second wave — which has claimed more lives — has been more infectious and widespread and has also hit sentiment hard, things are uncertain.
Karan Shah, executive director of Precision Camshaft Ltd (PCL), the world's largest camshaft manufacturer, is nevertheless optimistic.
"The disruption will impact the business only temporarily. No OEM has announced more than two weeks' shutdown and we hope they make up for the production loss in the coming months," said Shah.
Camshafts are used in internal combustion engines, mechanically controlled ignition systems, and early electric motor speed controllers.
Despite Covid-related disruptions, PCL is operating at 80-90 per cent capacity owing to its "export obligations".
The company draws 65-70 per cent of its revenues from exports.
"Quite a few of our export markets are looking up," said Shah, citing the US, Brazil, and Russia.
Photograph: Adnan Abidi/Reuters