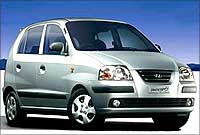 Having threatened to do so for months, Hyundai Motor said it has finally decided to move production of the premium hatchback i20 model for the European markets to Turkey, from its Sriperumpudur facility near Chennai.
The Chennai facility will continue to service Indian and non-European markets.
In July 2009, Hyundai India's managing director H S Lheem had said the company was planning to move production to Turkey, the Czech Republic or Slovakia.
Lheem had explained that exports from India to Europe had become uncompetitive because the country did not have free trade agreements with European countries.
Recent labour problems in the factory -- the workers went on strike between April 20 and May 7 and again from July 23 to July 28 against a wage settlement agreement -- also prompted the decision.
Confirming the development, Hyundai Motor spokesperson Rajiv Mitra said the company will manufacture the i20 from its unit which was set up by Hyundai Assan, a joint venture between Hyundai Motor and Turkish industrial conglomerate Kibar Holding in Izmit, Turkey.
The plant produces the Verna and Lavita models and has an annual capacity of 100,000 units. The company plans to produce 70,000 to 80,000 units of the i20 from the Turkish plant.
According to reports, Hyundai is expected to invest $75 million (around Rs 375 crore) in the Izmit plant.
Meanwhile, the Sriperumpudur facility has set a target to manufacture 50,000 units of the i20 for the Indian market and 20,000 units for non-European markets, including Vietnam, Australia, New Zealand, Latin America and other South East Asian countries. The facility currently produces around 12,000 i20s both for export and domestic market.