New Delhi's timing couldn't have been worse, both for India's fledgling electric vehicle (EV) sector and prospective electric bike buyers.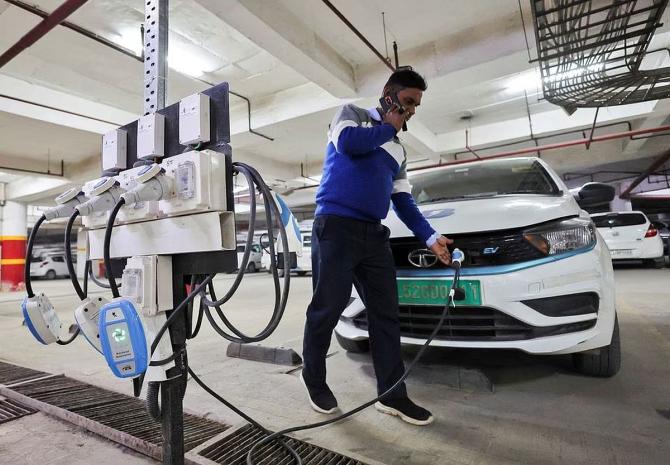 It was hard to miss the perfect storm brewing for India's EV industry since early 2022.
On one hand, you had several accidents involving battery fires that unnerved consumers; on the other, uncertainty had crept in over subsidies.
Charging infrastructure continued to be a drag, and financial institutions are hesitant to step on the pedal when it came to financing battery-operated vehicles.
Taken together, all these disparate elements do not bode well for a fledgling electric two-wheeler (e2W) industry, which until last year was largely a clutch of family-run shops, barring an odd VC-funded Ola or Ather Energy.
The health of this sector was paramount for India's plans to have 80 per cent of new sales coming from e2Ws by 2030.
Likewise, at least a third of passenger car sales would be powered by batteries.
That would have lit the path for India's 2070 net zero goals as well.
But this was exactly when the government, fresh from launching an investigation last year into subsidy misuse, decided to slash demand incentives by 33-63 per cent from June, hardly 10 months before the expiry of the second edition of its flagship Rs 10,000 crore Faster Adoption of (Hybrid &) Electric Vehicles in India (FAME II) scheme.
More so when the government had sponsored only 41 per cent of the target of more than 1.5 million EVs since the launch of the scheme in April 2019, Business Standard reported.
The scenario for passenger vehicles is bleaker.
The shortfall in incentives to cars and three-wheelers is over 85 per cent.
Last month, the government amended FAME II, with effect from June 1, the third such policy change in the last two years.
The cap on subsidy was lowered to 15 per cent of the ex-showroom price from the earlier 40 per cent; the subsidy benefit available per Kwh of battery capacity was also cut by to Rs 10,000 per Kwh from Rs 15,000 per Kwh.
In 2021, the government had extended the scheme to March 2024, because of the pandemic and had doubled the cap on subsidy to 40 per cent of the ex-showroom price, and increased the subsidy to Rs 15,000 per Kwh from Rs 10,000 per Kwh.
Electric two-wheeler buyer Luv Singh's predicament reflects the problem with these changes in FAME II.
The subsidy cuts have crashed his plans to buy an e2W.
Singh hails from a farmer's family in Tarn Taran in Punjab, a border town adjoining Amritsar – the sort of small towns that carry the potential to power the growth of EVs, with Ola and Ather opening showrooms.
Singh had a budget of Rs 1 lakh, sufficient to buy a TVS Sport worth Rs 80,000, offering 70 km mileage, or a Rs 95,000 TVS Jupiter.
Until a few months back, a Hero Electric was also within reach, but an investigation into Hero and Okinawa, erstwhile leading manufacturers with an affordable EV range, had forced them to slash output.
Singh's friend had bought an Ola S1 for Rs 1,30,000.
But Singh's visit to swanky Ola and Ather showrooms, located on pricey real estate in Amritsar, left him with a sticker shock.
Prices were as much as Rs 15,000 higher with the Pro retailing for Rs 1,55,000.
Ather's cheaper 450X model was more expensive than an Ola Pro, and the top model cost Rs 1,79,000.
"Paji, the government has cut the subsidy by Rs 33,000," the Ather salesman told Singh.
Hero Electric could only offer Singh, a low speed, unregistered basic model, Atria, for Rs 78,000.
A disheartened Singh is now trying to clinch the deal for a TVS petrol bike. Vehicle prices typically increase by 2 or 3 per cent, not by 30 per cent, the TVS dealer of conventional bikes told Singh.
Higher sticker prices matter more for some of the leading, price sensitive conventional two-wheeler markets such as Uttar Pradesh, Bihar, and West Bengal, where the EV penetration at a little over 1 per cent is a fifth of the national average.
So what's the outlook for EVs?
"The EV adoption pace will slow down over the near term, and e2W penetration for FY25 lowered to 10-12 per cent from an earlier estimate of 13-15 per cent," said Rohan Gupta, sector head, at ratings agency ICRA.
Uncertainty over norms is a concern for general EV adoption, added Akash Gupta, CEO Zypp Electric, an EV logistics provider, who, however, expects robust sales in the commercial segment.
Sales of registered e2Ws may total only around 1.2 million in FY24, half of the 2.3 million vehicle target, if the government does not resolve the subsidy issue, said Sohinder Gill, CEO, Hero Electric.
Over Rs 2,000 crore of subsidies are pending, with some small producers shutting shop, and banks pulling the plug on many manufacturers.
Sales of e2Ws in FY23 were around 800,000 – short of a 1.2 million target.
"We expect the pace of electrification to slow down if subsidies are stopped post-FY24 as the acquisition price gap between ICE and EVs will increase substantially," said Hemal Thakkar, director, Crisil Research.
There were budget considerations for cutting back on subsidies, the government said.
But, politics apart, a government that could afford Rs 2.25 trillion last financial year, twice its earlier estimate, as subsidy for fossil fuel-derived fertilisers, could have earmarked a few thousand crores more by way of a demand incentive for vehicles that mitigate emissions in India's polluted metros.
A new report by FICCI-Yes Bank projects a 91 per cent penetration in new vehicle sales, and a 90 per cent penetration for e2W sales only by 2047 as against around 5 per cent now.
The report emphasises the importance of demand incentives and credit pathways to ensure penetration.
This midway change in FAME II subsidies is creating other problems.
As Pankaj Gupta, CEO, Mufin Green Finance, pointed out, subsidies are not fully passed on by manufacturers to consumers, because they are not sure of how much they will get back from the government.
He said that if manufacturers are selling unregistered, low-speed vehicles for Rs 70,000, subsidised vehicles should have cost much less.
But Manas Arora, co-founder and CFO, Alt Mobility, an EV leasing company said, "Despite lower subsidies and higher vehicle and battery costs, the total cost of ownership for e2Ws, with petrol at Rs 90 a litre, is still favourable to consumers."
Yet for customers like Singh, the upfront vehicle price, and fossil fuel alternatives are equally important factors in their purchase decisions.
And that's where subsidies actually work.