Dismissing opposition charge that Maruti was shifting from Haryana, Chief Minister Bhupinder Singh Hooda on Wednesday asserted that the state has and will remain the auto major's base, and the company is planning expansion in the state.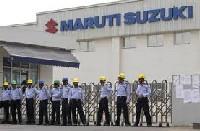 "INLD and Haryana Janhit Congress leaders have recently been issuing misleading statements about Maruti shifting base from Haryana. I want to clarify that none of this is true. Maruti has its base here and in future too Haryana will be its base," Hooda said.

He said opposition's claims suggesting that Maruti was packing up from Haryana and shifting to Gujarat was not true.

"In fact, I recently received a letter from Mr (Osamu) Suzuki (of Suzuki Motor Co), stating that the company was planning to pump more investment in Haryana," he said, adding that Maruti's Gujarat move had nothing to do with recent labour unrest in the company's Manesar plant.

He said that the Haryana government had no objection to Maruti's proposal to set up a plant in Gujarat for export market near a port.

"They are free to expand and put plant at other places. We cannot stop them from doing so, but there is no link that Gujarat move was triggered by labour unrest in Manesar," he stressed.

Hooda said that Maruti has three existing plants in Haryana - one in Gurgaon, plant A and B in Manesar, all set up with a combined investment of Rs 12,000 crore (Rs 120 billion) and now they were setting up Plant C in Manesar, at an investment of Rs 2,000 crore (Rs 20 billion).

"Besides, the company proposes to invest Rs 1,700 crore (Rs 17 billion) in an international Research and Development (R&D) testing centre at Industrial Model Township (IMT) at Rohtak in the next two years," he said.

Maruti has been allotted 600 acres of land at IMT Rohtak by the state government for setting up what is being claimed by the state government as "biggest" R&D centre in Asia.

Besides, Maruti has also taken 100 acres of land at IMT Rohtak for setting
up ancillary units for automobiles.
"Most of the investments by Maruti in Haryana have been from 2005 onwards when Congress came to power. The opposition is only in the habit of misleading the people. They keep running their factory, in which only lies are produced," he said launching a scathing attack on the opposition parties.
Defending state's labour policy, Hooda said, "the Manesar strike was not caused because there is any fault in our policy".
Hooda said that during the past seven years, the state has attracted a number of foreign investments and several top companies from around the world have set up base in Haryana.
Quoting Assocham, he said that the state's per capita income at Rs 78,781 was the highest in the country and quoting CII-McKinsey study, he said that Haryana had witnessed a healthy economic growth rate.
"We are on top in terms of social inclusion, economic development, resource availability and utilisation. Haryana has 4 per cent of world's IT-BPO employees. In 2009-10, our growth rate of 9.9 per cent was higher than the national average of 8 per cent. The state in the past seven years has attracted Rs 53,000 crore (Rs 530 billion) worth investments and investments to the tune of Rs 1 lakh crore are in the pipeline," he said.
The Chief Minister said that in 2009-10, the exports from the State stood at Rs 43,000 crore (Rs 430 billion) including Rs 23,000 crore (Rs 230 billion) from the IT sector alone.
"By constantly speaking lies, opposition parties are trying to damage the state's interest," he said.
He also said on the farmers issue, the opposition was trying to allegedly mislead the public.
"When they (INLD-BJP) were in power (1999-2005), we know what was the plight of farmers under their rule. Whenever they are in the opposition, they shed crocodile tears.
During our time, we have tried to give best prices for wheat, paddy, sugarcane and other crops," he said, adding he would try and prevail upon the Central Government to announce a bonus of atleast Rs 200 per quintal on all varieties of the paddy crop.