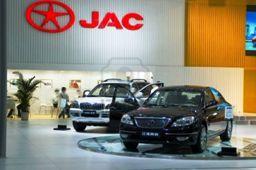 The battle in the Indian automobile industry is set to intensify with Chinese auto maker Jianghuai Automobile Company planning to launch commercial vehicles as well as passenger cars.

"India would be one of the key markets for JAC. To begin with, we are looking at introducing commercial vehicles, but eventually we'll launch passenger cars as well," said a spokesperson.

He did not specify a timeline for an entry but indicated it was open to collaborations to sell products.

"We will probably make an independent entry in India, but may co-operate with existing players, depending on the situation," he said.

JAC, founded in 1964, is the eighth-largest automobile company in China. The company sold 460,000 units to clock revenue of $2 billion last year.

It aims at recording growth of 30 per cent this year to sell 600,000 vehicles.

The volumes are comparable with what India's second-largest car maker, Hyundai Motor India Ltd, targets to sell this financial year.

JAC has a comprehensive line-up of vehicles in China, which includes light, medium and heavy duty trucks, buses, multi-purpose vehicles and sedans.

JAC also manufactures gearboxes, engines, auto components and engineering products.

The company recently launched an electric vehicle, Tong Yue, in the Chinese market.

With India slated to become the fourth largest automobile market globally over the next five years, Chinese companies such as Shanghai Automotive Industry Corporation and Beiqi Foton have all been evincing interest
in commencing operations in the country.
"A lot of cross-pollination will take place between the automobile industries in India and China. SAIC has already made an entry and manufacturers such as JAC and Beiqi Foton are working out the modalities of starting operations.
"These companies have products that are a strategic fit for the Indian market.
Some of them have already made enquiries regarding the vendor base available for starting operations here,"said an industry source.
SAIC, present through a partnership with General Motors, is working on introducing five new models in the country by 2013.
While two light commercial vehicles from the SAIC portfolio are slated to hit the Indian roads by the end of this year, another three passenger cars are proposed from the GM-SAIC alliance at a later date.
In May, Beiqi Foton had announced an investment of Rs 1,676 crore (Rs 16.76 billion) to set up a facility in western Maharashtra.
The company is exploring options to sell light, medium and heavy commercial vehicles here.
Foton Motor, a subsidiary of Beijing Automobile Group Co Ltd, is the world's second-largest commercial vehicle manufacturer after Daimler.
The company sold 682,800 vehicles in 2010.
Recent times have witnessed a buzz in the Indian commercial vehicle segment, which clocked sales of 6,76,408 units last financial year, with the entry of global players like Navistar and Marcopolo, among others.
While the commercial vehicle segment recorded growth of 27 per cent last year, passenger vehicle sales grew 29 per cent to 2.52 million units.