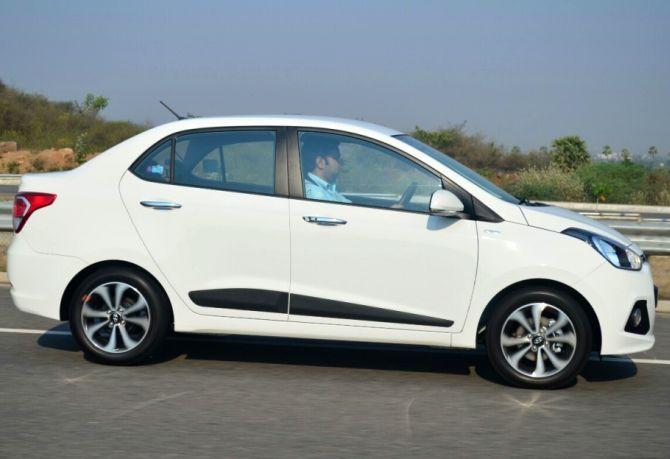 When domestic car sales clocked 12.54 per cent growth in August, the industry's fourth straight monthly gain, the perception that buyer sentiment has revived gained ground.
In April-August 2014-15, the market has grown 4.46 per cent.
If the momentum doesn't run out of steam, the year could record better growth than 2013-14 (when passenger vehicle sales fell 6.05 per cent) and 2012-13 (it registered a nominal growth of 2.15 per cent).
At the 54th Annual Convention of the Society of Indian Automobile Manufacturers, or SIAM, in New Delhi last week, the mood was distinctly upbeat. Senior executives talked of how acche din are back for the industry.
Buoyed by strong sales in the first five months (up 15.77 per cent to 459,040 units), Maruti Suzuki, the country's largest car maker, has scaled up its projection for sales growth this financial year.
Its chairman, RC Bhargava, says, "We will surely have a double-digit growth rate this year.
We had not expected more than 7 or 8 per cent growth till the general elections, but our sales have grown at an average 16 per cent in the past five months.
I will, however, not like to predict whether the rate for full year will be 12 per cent or 16 per cent." Abdul Majeed, partner and leader (automotive practice), PricewaterhouseCoopers, says: "At the beginning of the year, we estimated the passenger vehicle industry will grow 3-5 per cent due to release of pent-up demand.
Given the increase seen in sales over the last three-four months, the industry can grow 10-12 per cent.
But this can only happen if GDP growth improves to 5.5-6 per cent and inflation moderates. We are waiting to see how the festive season goes before we finalise these estimates."
It is coming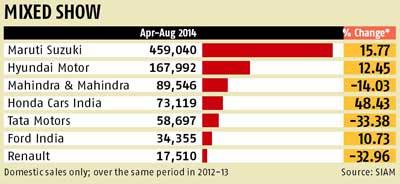 However, a closer look at the sales numbers of automobile manufacturers shows that the much-talked-about turnaround may still be some months away.
Data made available by SIAM reveals it is only the bigger car makers such as Maruti Suzuki, Hyundai and Honda that have registered strong double-digit growth this year.
The others are still stuck in low growth and have pinned their hopes on the festive season for a broad-based recovery across segments.
While green shoots have appeared for the big boys, others like Mahindra & Mahindra (sales are down 14.03 per cent to 89,546 units), General Motors (sales dropped 33.36 per cent to 24,284), Renault (drop of 32.96 per cent to 17,510 units), Tata Motors (decline of 33.83 per cent to 58,697 units) continue to stutter primarily due to lack of new offerings.
It is only recently that Tata Motors launched its new sedan, the Zest. The company has said it has over 10,000 orders for the new model and is expecting sales to pick up from September.
Bhargava believes overall growth in the car market this year will not be higher than the 5-6 per cent predicted earlier.
"The growth is not across manufacturers. Some of Maruti Suzuki's new launches helped it grow its sales. But, generally, customers are not willing to take risks; they are playing safe and moving to products that are established and trusted," he informs. Rakesh Srivastava, senior vice-president (marketing & sales), Hyundai India, agrees, "Last two years have been challenging. In the initial phases of revival, we have always seen growth is largely limited to a few established players. With the overall sentiment and fundamentals of the economy improving, growth will percolate (to others).
The festive season is a good start for that. We have seen a good start in Onam and Ganesh Chaturthi and we expect the momentum to continue going ahead." Hyundai expects the industry to close the current year with growth in high single digits.
Launches of new models such as the Honda Mobilio and the Hyundai Elite i20 have also helped increase sales during the last few months.
The Elite i20 has registered 21,000 bookings within a month of launch in August this year. For Honda India, the newly-launched Mobilio (5,530 units) and the Amaze (9,198 units) helped grow sales by 88 per cent in August.
The models contributed nearly 90 per cent to Honda's overall passenger vehicle sales in the domestic market last month. Production of Honda's flagship sedan, the City, has temporarily stalled in August and the vehicle production is being shifted to the company's new facility in Tapukara, Rajasthan. Honda India agrees the growth seen in the first few months has not been shared by all.
The company's senior vice-president (marketing & sales), Jnaneswar Sen, says: "The fact remains that people are buying more cars than last year.
Growth is not shared by everybody but if the improved sentiments are followed by increase in GDP growth and moderation in inflation, there is enormous headroom to grow."
Honda, which has received bookings for more than 19,000 Mobilios, is planning a third shift at its facility in Tapukara from November to scale up production to 20,000 units per month.
The company will roll out the Amaze, Mobilio, CR-V and Brio from its Greater Noida factory, while the Amaze and City will be manufactured in Rajasthan.
Brisk action
Ford, which has lined up four new products for launch in the Indian market over the next 18-20 months to expand its footprint as the market recovers, says the recovery is for real but sustained turnaround in demand may take a few months.
Nigel Harris, president, Ford India, says, "The recovery is for real. There are positive signs but the turnaround is not strong enough. There are only four manufacturers, including us, who have seen year-on-year growth so far. Sustained demand growth is still some months away. The new government has been in office only for about 100 days now, people are still waiting. The spike during festive season will be normal and not extra-ordinary."
But even as apprehensions persist regarding the strength of the sales momentum in the domestic market, what has emerged as a clear trend over the last few months is the revival in the demand for petrol cars, particularly in the small car segment.
Sumit Sawhney, country CEO and MD, Renault India, says, "What we are seeing is that in the compact space, the demand for petrol products has revived. But in larger vehicles such as SUVs, the demand for diesel options will continue to remain strong."
Given the altered dynamics, Maruti Suzuki had decided to temporarily stall the second phase of expansion at its diesel engine manufacturing unit in Gurgaon.
The company, however, does not see a dramatic shift back to petrol products either, despite price differentiation between the two fuels coming down substantially.
"The diesel shift is not dramatic. It was 62 per cent at its peak, now it is 50.5 per cent. It had gone up from 32 per cent to 62 per cent very swiftly, but the fall has not been at the same rate", Bhargava says.
The company is slated to launch two sports utility vehicles over the next two years - both of which will have diesel options.
With the companies keeping a close tab on the changing consumer sentiment and sprucing up their line-up, it remains to be seen whether they can bring sales back on track.
Bike sales are zooming ahead
In the two-wheeler space, the mood is clearly upbeat. The industry has grown 15 per cent to sell 6.6 million units between April and August this year.
Market leader Hero MotoCorp has lined up 12 refreshed products for launch to cash in on the festive season that begins later this month.
Pawan Munjal, vice-chairman and managing director, Hero MotoCorp, says, "Our sales this time will be better than last year when we sold around 600,000 units during the festive season."
Rival Honda Motorcycle & Scooter India, which has had a good run so far, too is gearing up to cater to demand for the festive season.
Yadvinder Singh Guleria, vice-president (marketing & sales), says: "We have an order backlog of 85,000 units, of which 65,000 are scooters. We are running on full capacity and tweaking our production plans. Customers prefer taking deliveries during the festive season, and we are increasing scooter production by 15-20 per cent to meet their requirements."
Image: Hyundai Xcent diesel.
Photograph: Courtesy, Indian Autos Blog