Buoyed by the successful roll-out of Nano from Sanand in Gujarat, Tata Motors is understood to have scaled up its ambitions and planning to produce around 30,000 units a month by March 2011.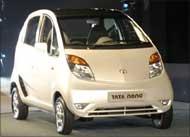 According to vendor sources, the company has asked Nano's component suppliers to triple the volume of supplies from the current levels.
"At present, vendors are supplying components for an average of about 10,000 units of Nano a month. They have been told to scale it up by three times by March 2011," said an official of firm that supplies critical components for Nano.
Tata Motors, currently produces Nano from its plants at Pantnagar in Uttarakhand and Sanand in Gujarat.
"Considering the volume of the orders, Tata Motors could be aiming for about a combined output of 360,000 units of Nano from Pantnagar and Sanand from 2011-12 fiscal onwards," another source added.
When contacted Tata Motors spokesperson said, "As you are aware, the Sanand plant capacity, to begin with, is 250,000 cars per year. The capacity will be achieved in phases."
Tata Motors had earlier stated that the output from Sanand plant could be scaled up to 500,000 units a year.
The company's Pantnagar plant can produce up to 50,000 units of Nano a year.
On June 2, the company had inaugurated its Sanand plant which is spread over about 1,100 acres. The company had invested about Rs 2,000 crore (Rs 20 billion) on the plant, after it was forced to move out of the original location at Singur in West Bengal in 2008, as the Tatas were unable to beat political challenge from Trinamool Congress.
The company launched the Nano in March 2009, with limited production from the Pantnagar plant. It had taken bookings of the car through a draw and is in the process of delivering to its first one lakh customers to be made by the end of this year. Till June it has delivered over 40,000 units.